PADI Course Director Training Course Prep (CDTC)
PADI Course Director CDTC Prep Course Koh Tao in Thailand
PADI Course Director Prep Course Tailored to your Needs
Prices for our CDTC are based on your current level of experience and the course is tailored to your individual needs.
Staffing credits – Staff 3 entire IDC's
PADI Certs – Team teach to meet CDTC prerequisite PADI certs & conversion ratios
Support of Project AWARE – Participate in our Marine conservation program
Support for Business Plan & Success Agreement
Introduction to PADI Regional Manager
Our PADI Course Director Training Course Prep is tailored specifically to each Master Instructor's individual needs in order to meet the CDTC prerequisite criteria. Our objective is for you to produce a successful application and be accepted on the Course Director Training Course (CDTC)
Who can Enrol on the CDTC Prep course?
A renewed PAD Master Instructor (MI)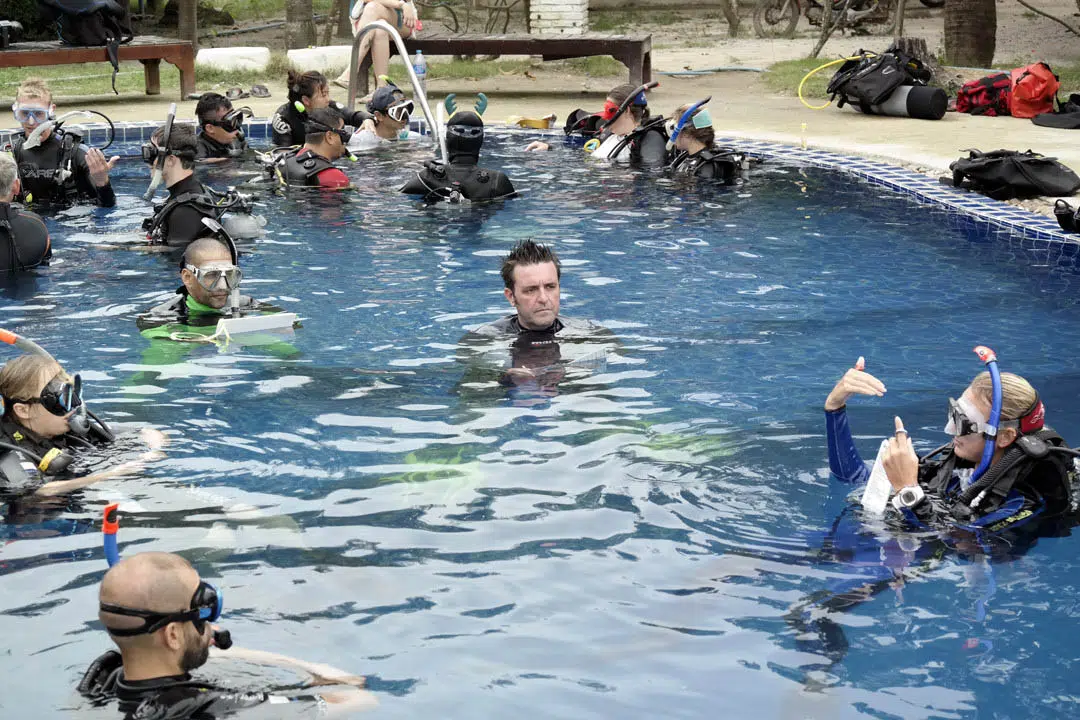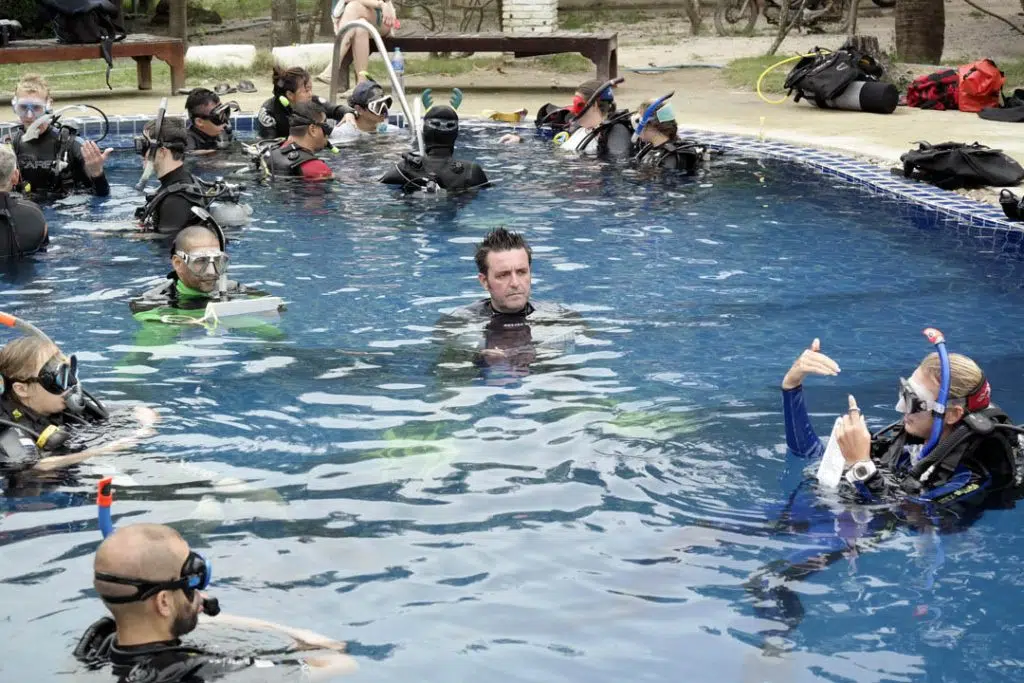 What is included?
IDC Staffing Credits
You will staff 3 entire IDC's. We will focus on further developing your ability to organise & conduct IDC training sessions in a timely and efficient manner.
We will also ensure your evaluation skills are in line with PADI staff to adequately prepare you for your evaluation sessions on the CDTC. You will conduct the final counselling sessions with the candidates prior to the IE.
Teaching Experience & Continuing Education Ratio
We will review the number of PADI certifications you hold and calculate your continuing education ratio as defined by the conversion ratio of entry-level divers to higher levels of training. (i.e. Adventure Diver, Advanced Open Water Diver, Rescue Diver, Divemaster, Assistant Instructor, Specialties, etc.)
This will enable us to tailor a team teaching Internship focused on increasing your continuing education ratio to a level that will ensure you feature in the top 20 % when compared with other applicants, as measured by PADI.
This team teaching Internship may include Adventure, Advanced & Rescue courses as well as specialty courses.
Marine Conservation Commitment
As part of your CDTC you must demonstrate your support of the underwater environment and the Project AWARE Foundation. During your CTDC Prep course you will participate in our Marine conservation program.
This program far exceeds the requirements of the CDTC application, so you are not just ticking the boxes but we are giving you a level of knowledge above and beyond what is required for marine conservation by PADI but what, in reality should be expected of any successful PADI Course Director.
We will help you to:
Create and maintain a My Ocean profile on Project AWARE's online conservation platform to document the above actions. www.projectaware.org/myocean
As a 100% AWARE Partner you can promote the Project AWARE version of the PADI Certification Card during your time with us.
Undertake Dive against Debris survey/s and submit data online. www.projectaware.org
Lead an Adopt A Dive Site.
Teach the AWARE Shark Conservation Diver and/or Dive Against Debris Distinctive Specialty.
Promote 10 Tips for Divers to Protect Our Ocean Planet.
Why IDC Koh Tao?
You will be learning from the most experienced and successful PADI Course Directors, dive centre management and marine conservation team in Asia Pacific. This ensures that you will have a wealth of experience and knowledge to draw upon during your CDTC Prep course and beyond.
Please bring the following materials with you.
PADI Specialty Course Instructor Manual (CD-Rom)
PADI Guide to Teaching (Paper version or CD-Rom)
Diving Knowledge Workbook
PADI Quizzes & Exam Booklets [Open Water, Rescue Diver, Divemaster]
Open Water, Advanced, Rescue Diver, Divemaster course Instructor Cue Cards
PADI Course Director manual
C/W & O/W evaluation slates
In addition you'll also need a copy of the PADI Instructor Manual. The Instructor Manual is available as a free down load for all PADI Members that are renewed from https://www.padi.com/mypadi/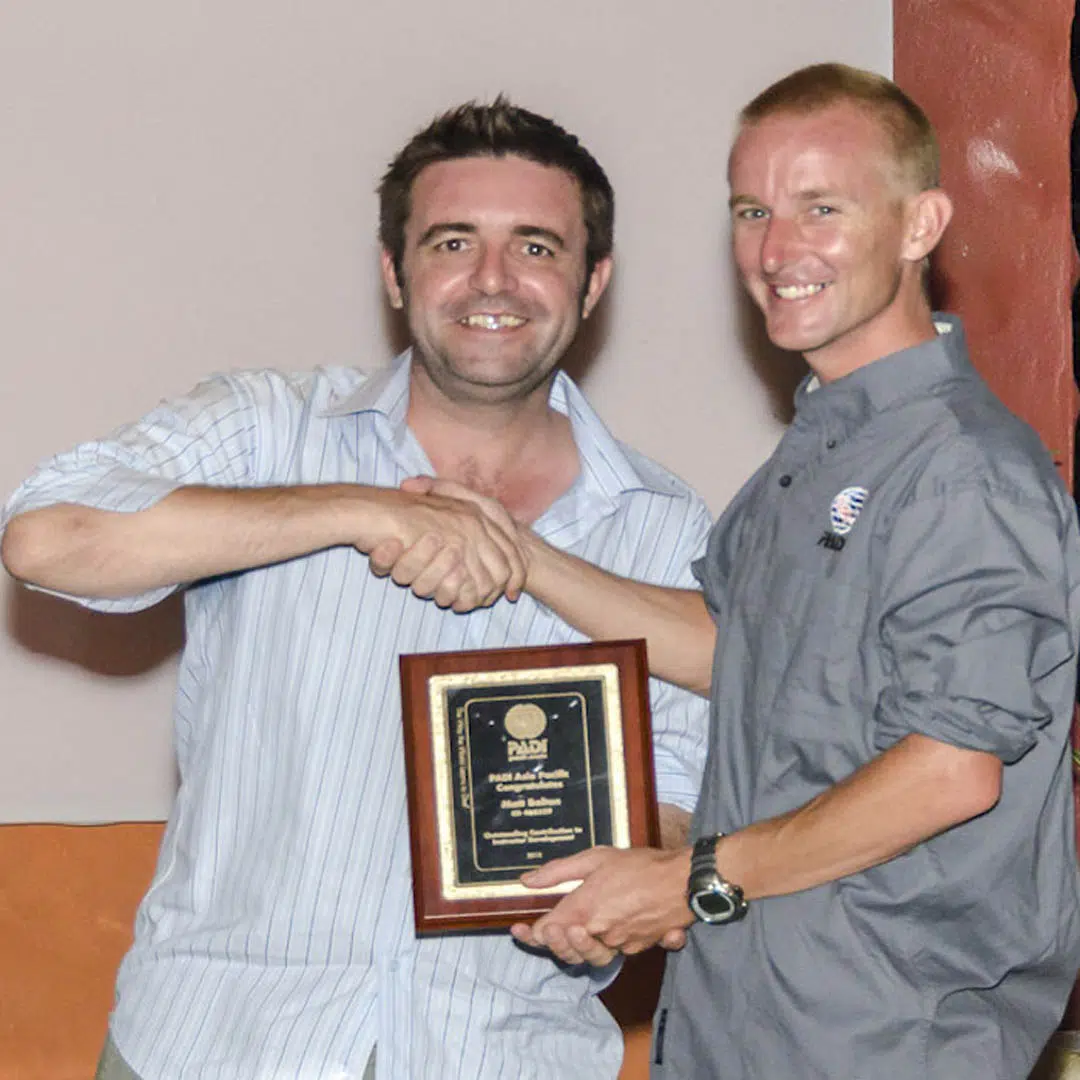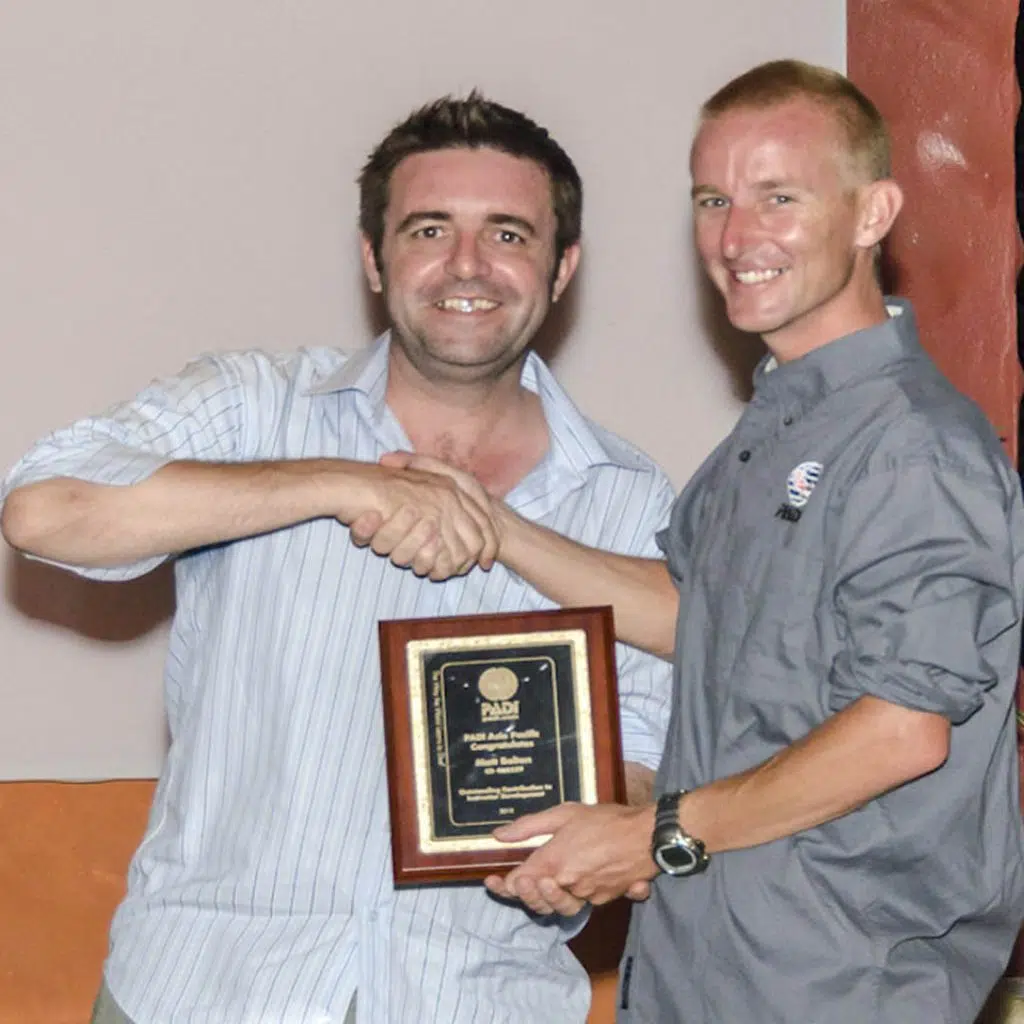 To become a PADI Course Director you must
Be a certified PADI Master Instructor
Have issued at least 250 PADI certifications – at least 50 continuing education certs, 5 rescue certs, 5 Divemaster certifications and 15 specialty certs
Have staffed at least 2 Instructor Development Courses in full after IDC Staff Instructor course
Have participated in 3 PADI seminars
Be able to demonstrate support for PADI's efforts within aquatic conservation
Be an EFR Instructor Trainer
PADI Dive Centre or Resort work experience
For 12 months before the course start date:
– Have no verified quality assurance complaints.
– Conducted all PADI certification courses and experience programs using methods consistent with PADI Standards and philosophy as outlined in the PADI Instructor Manual and PADI's 'Guide to Teaching.'
– Used the complete PADI System of diver education exclusively, including all appropriate PADI educational materials.
– Taught PADI Diver courses exclusively. Exceptions: students referred from other certification organisations for completion of entry-level training or certain technical, commercial and other courses not currently offered by PADI.
Selection Criteria for PADI CDTC Applicants
All applications for the course are thoroughly reviewed and ranked.
The top ranking applicants are then selected to attend the course. The criteria listed below are used to evaluate each applicant's experience, philosophical background and readiness to be trained as a PADI Course Director by demonstrating:
Understanding of PADI's business of Instructor Development as defined by the Business Plan and Success Agreement and the interview conducted by PADI staff.
Support of PADI, its programs and Project AWARE as defined by affiliation with a PADI Resort and Retail Association Member, attendance at PADI sponsored seminars (programs conducted by PADI staff), i.e. Business Academy, IDC Staff Instructor Update, Business Development Webinars.
Leadership in ocean protection through Project AWARE i.e. Dive Against Debris surveys, maintaining an active My Ocean account, promotion of the AWARE C-Card, becoming a 100% AWARE Partner, organising a Finathon or My Ocean Challenge, teaching the AWARE Shark Conservation Distinctive Specialty and / or the Dive Against Debris Distinctive Specialty, etc.
The candidate's past interactions with PADI and Project AWARE staff are also taken into consideration. Additional credit will be given to live attendance vs. online programs.
Use of PADI's educational philosophies as defined by the conversion ratio of entry-level divers to higher levels of training. (i.e. Adventure Diver, Advanced OW, Rescue, Divemaster, Assistant Instructor, Specialties, etc.)
Experience as a PADI Instructor as defined by the total number of PADI certifications issued.
Experience with the PADI Instructor training process as defined by the total number of IDC staffing experiences after certification as an IDC Staff Instructor.
Note: Prior Quality Assurance history and written examination scores will also be taken into account during ranking
Frequently Asked Questions
Why should I take part in a CDTC Prep Course?
Meeting the Course Director Training Course (CDTC) prerequisite criteria can be quite over-whelming and time consuming.
It is our goal to take some of the pressure off and help you produce a successful application. By doing so, you will increase you chances of being accepted.
Our PADI CDTC Prep is tailored specifically to each Master Instructor's individual needs and is dedicated to your success.
You will also have the opportunity to work with one of the most successful PADI Platinum Course Directors in the industry.
The benefit of taking part in our prep course, means you will have successful educators in the industry guide you through the CDTC process and prepare you every step of the way.
Which parts of the CDTC application can you help with?
We assist you as much as we can with every section of your application. This includes:
PADI Certifications
Project AWARE support
Assistance with your Business Plan & Success Agreement
We help to connect you with PADI staff members who will be a part of your journey to acceptance onto the CDTC program. The PADI staff can offer you support and valuable insights into a successful application.
Our main goal is to help you prepare to become a strong Course Director and not just someone who looks good on paper. We want you to be ready for life after the CTDC.
Who will be involved in my CDTC training?
For the majority of your training, you will work directly with our Pro level team, which consists of Award-winning Platinum PADI Course Director Matt Bolton, Platinum Course Director Andrea Warren and PADI Staff Instructor Kieran Hooley.
They will help to guide you through the ins and outs of working with and training with professionals. You will benefit in all areas of pro-level training, including:
Instructor Development Course
IDC Staff Instructor Courses
Instructor Specialty training
Divemaster Training
In order to build your certification counts and conversion ratios, as part of the CDTC prerequisites, you will work alongside our senior instructor team.
You can team-teach on a variety of instructor level continuing education courses.
How much time do I need to spend preparing for my CDTC?
There are a few factors we need to consider, while personalizing your schedule for your CDTC prep course.
We need to know what CDTC program you plan to apply for and how far along you are in completing your application.
We will look at your strengths and weaknesses in regards to your application. Depending on which areas we need to build on, will determine how long your program will last.
We want you to feel extremely confident when it comes to completing your CDTC and actively working as a PADI Course Director.
Can I get involved with Conservation activities on Koh Tao?
As part of your CDTC you must demonstrate your support for the underwater world. A big part of this is supporting the Project AWARE Foundation.
Since this is a key component of your application, we offer many opportunities, in which you can get involved with Marine Conservation.
We believe our Marine Conservation program far exceeds what is required by PADI when it comes to the CDTC application.
We believe that this is very important element when it comes to becoming a successful PADI Course Director. This will allow future candidates to look up to you as a conservation role model.