PADI Night Diver Specialty course
Course Price: 7,000 / 5,500 (3 Dive / 2 Dive)
BOOK NOW
Night Diver Specialty course in Koh Tao, Thailand
The Coral Reefs around Koh Tao come alive at night and scuba divers will experience a whole new world as the sun fades and the night time marine life comes out to play.
Whilst some of your favourite marine animals will sleep, nocturnal marine animals come out to start their day, full of energy.
The PADI Night Diver Specialty course is a great way to introduce divers to the wonderful and amazing underwater world at night and a whole new group of our favourite nocturnal marine animals.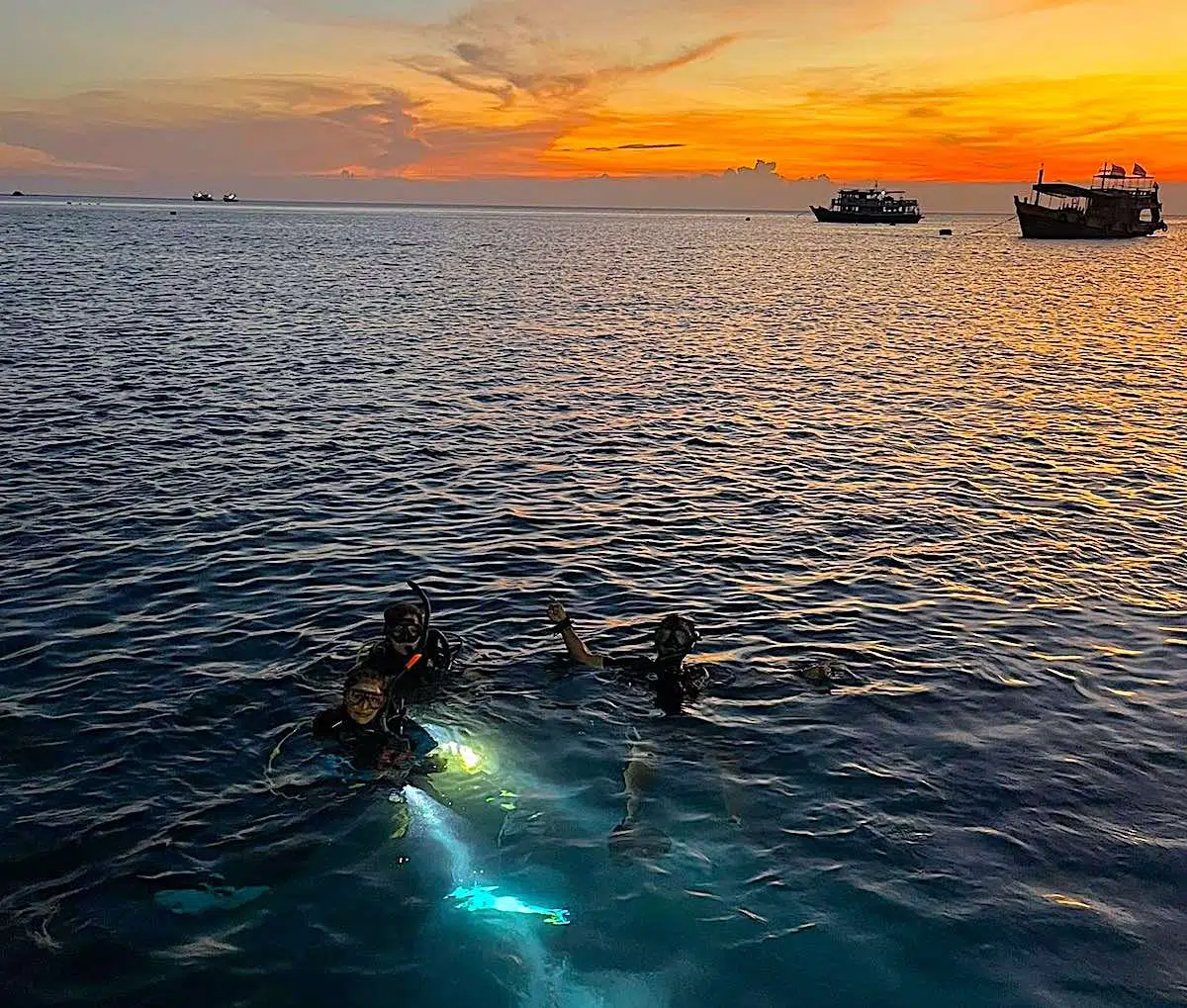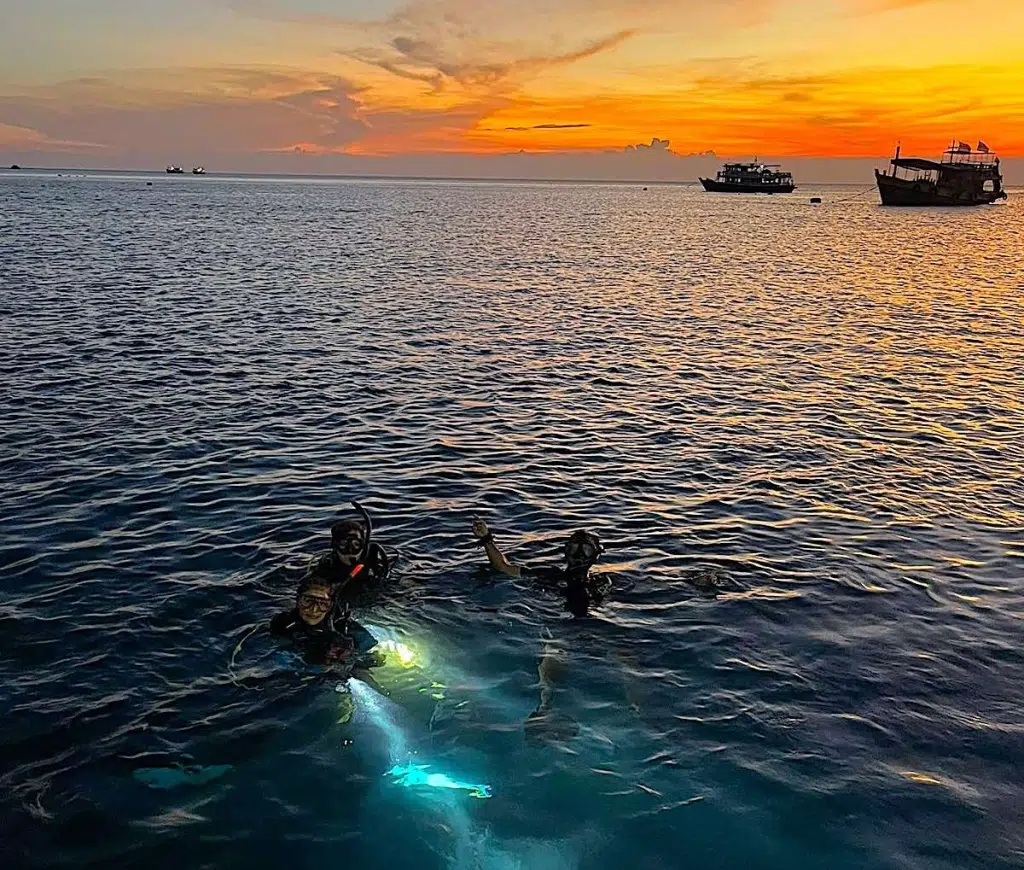 What is included in the PADI Night Diver course?
3 / 2 Night training dives at suitable night diving sites around Koh Tao*
PADI Night Diver e-learning manual
PADI Night Diver Specialty certification
All equipment rental including FREE Dive computer rental
Maximum 4 students per Instructor
What will you learn in the PADI Night Diver course?
Environmental conditions you should avoid when night diving
Dive planning considerations for Night diving
How to deal with light failure, disorientation, buddy separation & stress when diving at night
Night diving Techniques for descending & ascending to avoid disorientation
How to communicate when diving at night
Underwater navigating techniques when night diving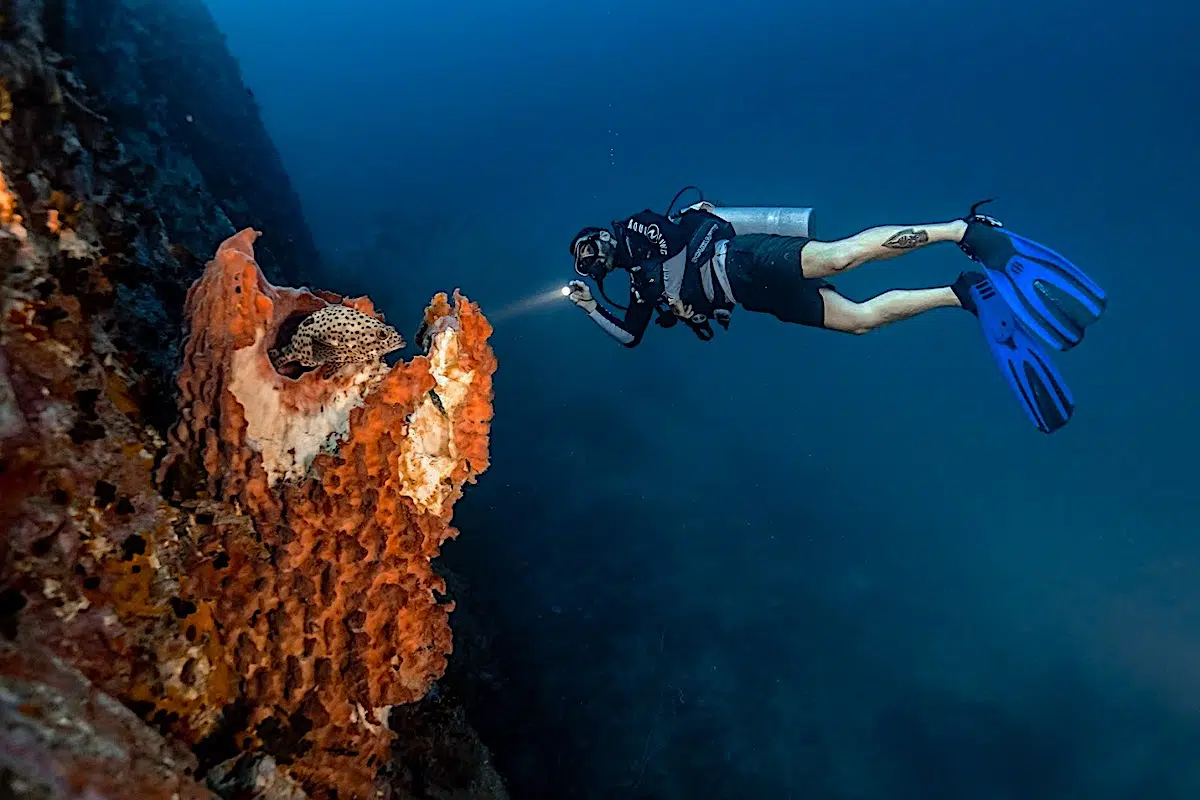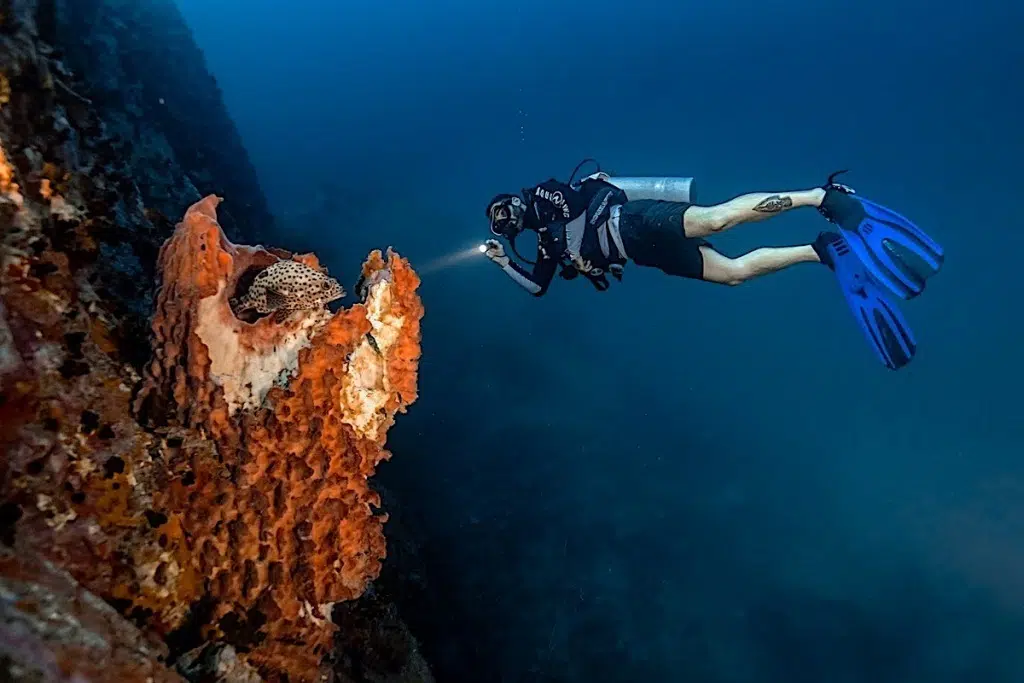 Night diving around Koh Tao
One of the main factors for completing the PADI Night Diver Specialty course in Koh Tao is the ability to access regular diving opportunities at night.
Koh Tao boasts a great range of dive sites that are perfect for PADI Night divers to explore and to learn new skills and develop confidence as a diver.
In fact, there are very few nights in a calendar year when there is not at least one dive center on Koh Tao conducting a night dive.
We schedule 3-4 night dives per week if the weather is good, and our favourite dive sites include White Rock, Twins, Junkyard Reef & Japanese Gardens.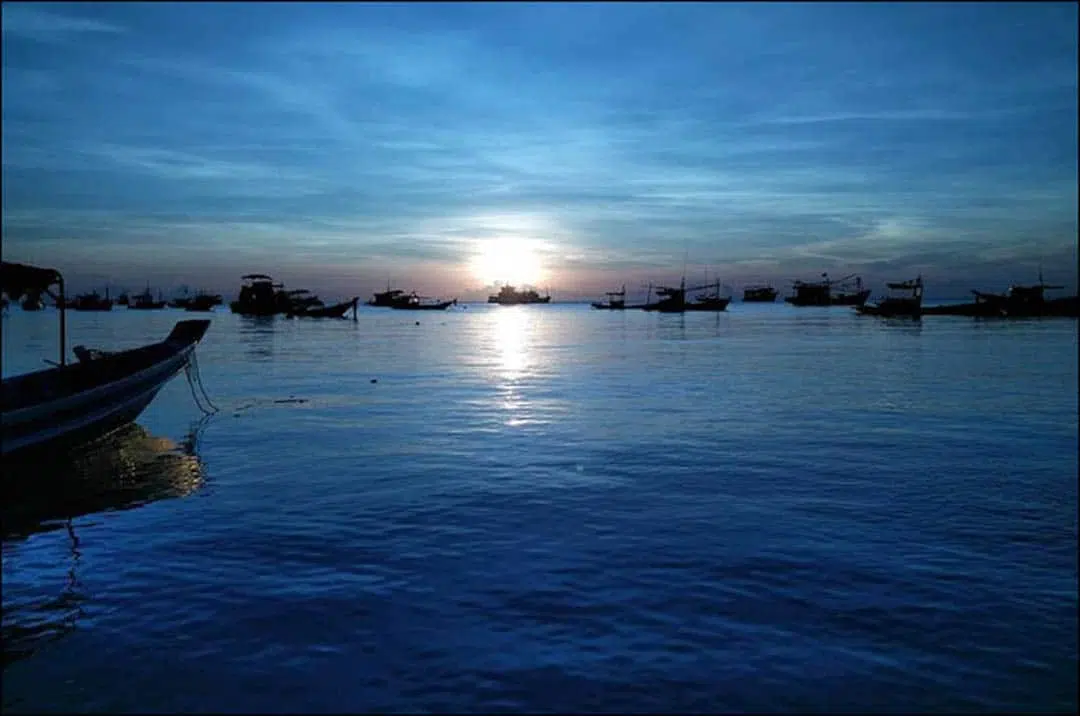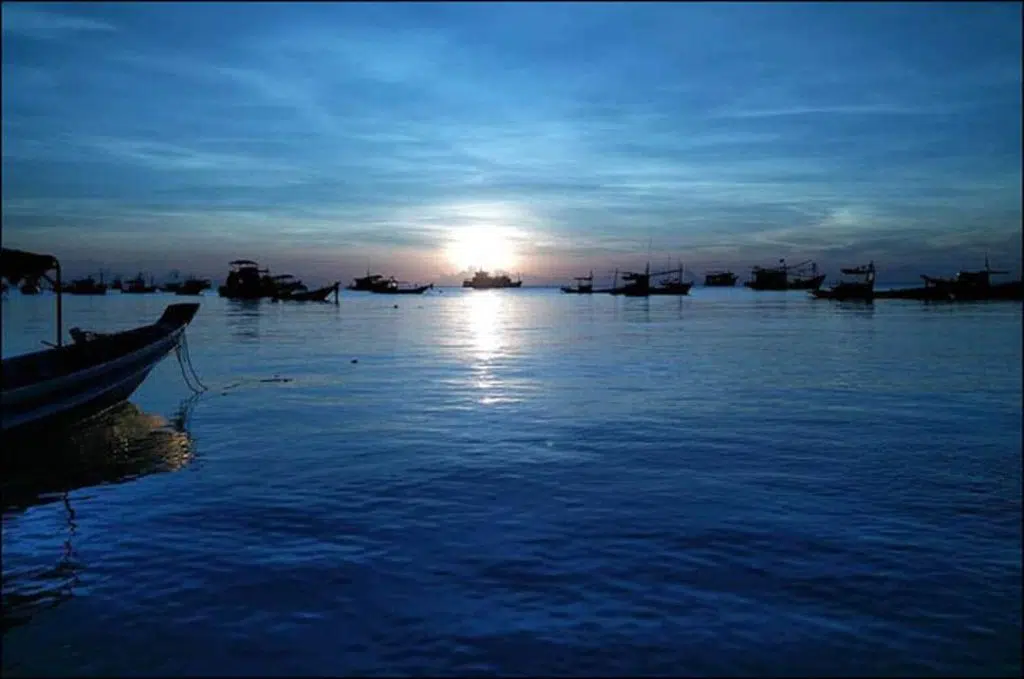 Benefits of Becoming a PADI Night Diver
Enrolling in the PADI Night Diving Specialty course can offer several benefits for divers who want to explore the underwater world after the sun has set.
Observing Nocturnal Marine Animals & Behaviours
Just like on land many marine animals are nocturnal, which means they sleep during the day and we do not see them during daytime dives.
Night diving offers divers a unique opportunity to observe marine animals that hide or sleep during the day, and you can experience their unique night time behaviour.
You will also see marine animals active during your day dives, who will be sleeping at night.
PADI Night Diver – Enhanced Skillset
The PADI Night Diver Specialty course includes specialised training in night dive techniques. This includes navigating at night, being comfortable with your buoyancy control at night and how to communicate in low light conditions.
You will learn how to use a dive light safely and effectively, improving your overall diving skills.
PADI Night Diver – Increased Confidence
Night diving can be intimidating for some divers due to reduced visibility and the unfamiliarity of the dark environment. The PADI Night Diver Specialty course helps boost your confidence by teaching you how to manage potential challenges, such as disorientation or anxiety, effectively.
PADI Night Diver – Unique Experiences
Night dives offer a different perspective on the underwater world. You will experience the thrill of seeing marine life that sleeps during the day, and the ambience of diving at night can be a magical and serene experience.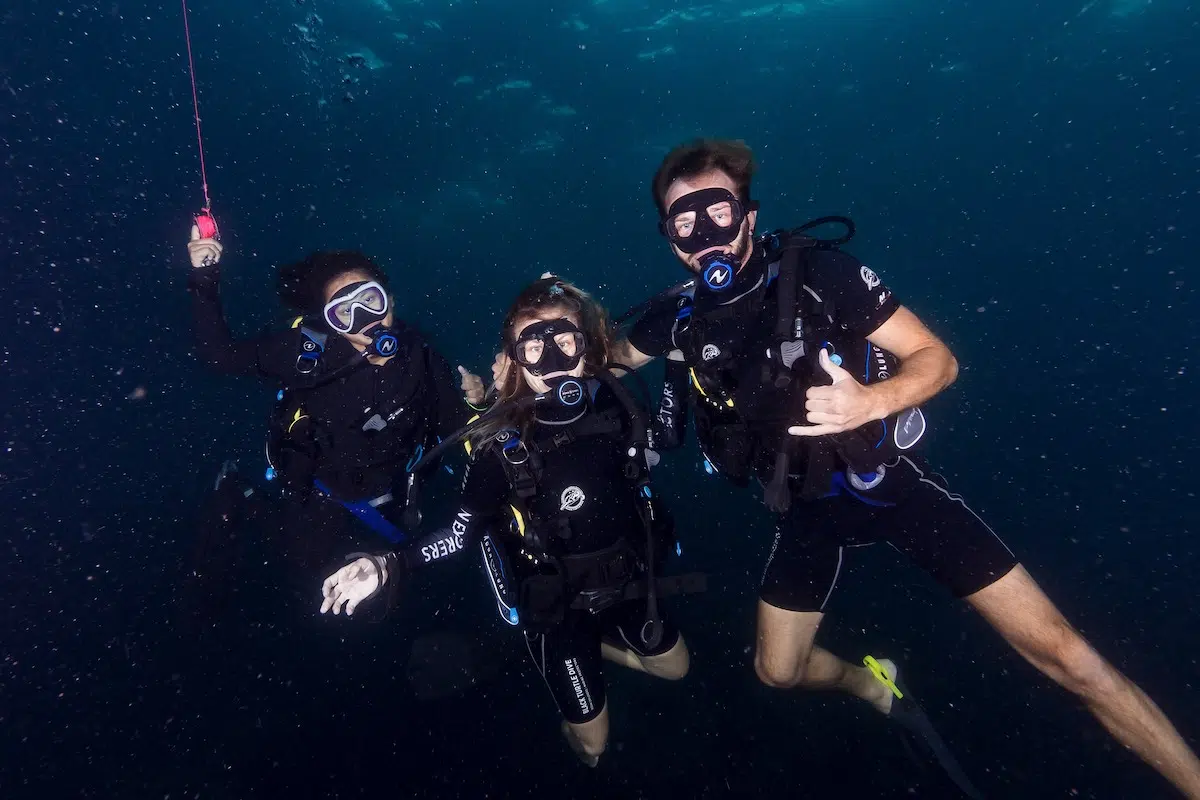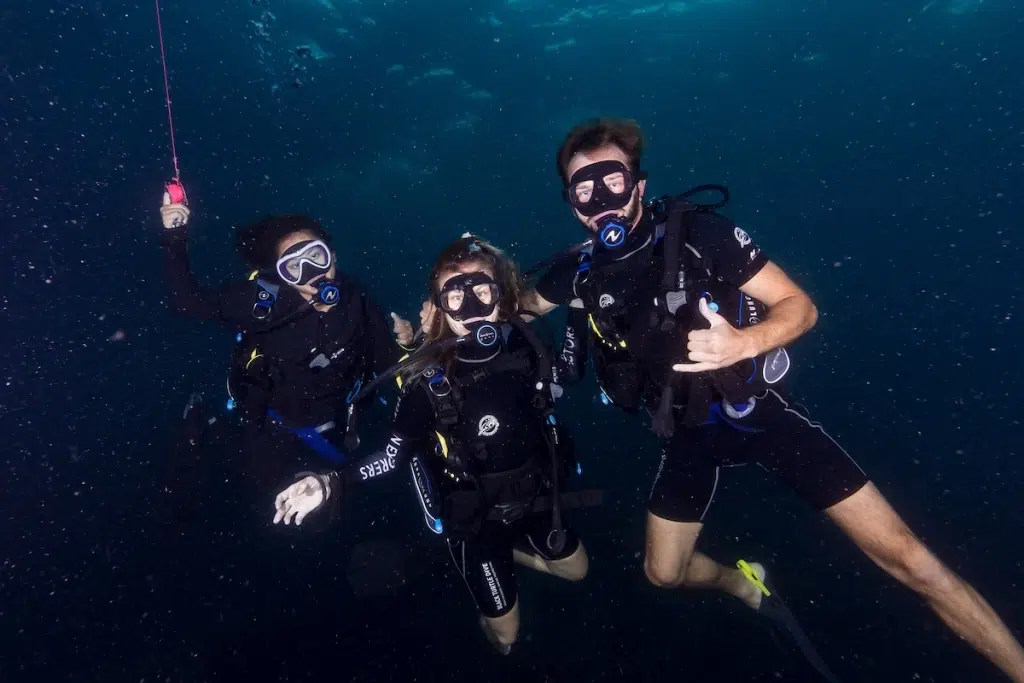 Observing Nocturnal Creatures
Many marine animals and creatures are more active at night, including octopuses, lobsters, crabs, and various types of fish. Night diving allows you to observe their natural behaviours, such as hunting, spawning and mating.
PADI Night Diver – Improve Navigation Skills
Navigating underwater at night can be challenging, but the PADI Night Diver Specialty course teaches you how to use a compass and other navigation tools effectively in low-light conditions.
These skills can benefit you in all types of scuba diving environments.
PADI Night Diver – Adventure Diver
Night diving adds an element of adventure and mystery to your diving experiences. It's a unique way to enjoy your passion for diving and explore new aspects of the underwater world.
PADI Night Diver – Specialty Certification
Completing the PADI Night Diving Specialty diving course earns you a certification that recognizes your expertise in night diving. This certification can be a valuable addition to your diving qualifications and may be required for certain night dive excursions.
Safety Awareness
The course emphasizes safety protocols specific to night diving, such as buddy communication and emergency procedures. Being well-prepared for night time emergencies contribute to overall diving safety.
Enhanced Appreciation of the Ocean
Night diving can deepen your appreciation for the underwater world and its intricate marine ecosystems. It fosters a greater sense of responsibility for marine conservation and preservation.
Keep in mind that while night diving offers numerous benefits, it also presents its own set of challenges, including reduced visibility and the need for specialized diving equipment and techniques.
Therefore, enrolling in a PADI Night Diving Specialty course is a wise choice if you're interested in exploring this fascinating aspect of scuba diving.
Who can enrol on the PADI Night Diver course?
To enrol on the PADI Night Diver course you must:
be a

PADI Open Water diver

or have a qualifying certification from another agency
have recent diving experience – we recommend completing a scuba review if you have not dived for 12 months
be 12 years old or older
be Medically fit to dive
We conduct the PADI Night Diver specialty course over 2 – 3 evenings
* If you have already completed the PADI Night Adventure Dive you need to complete a minimum of 2 further Night training dives. If you have not completed the PADI Night Adventure Dive you must complete a minimum of 3 Night Training dives.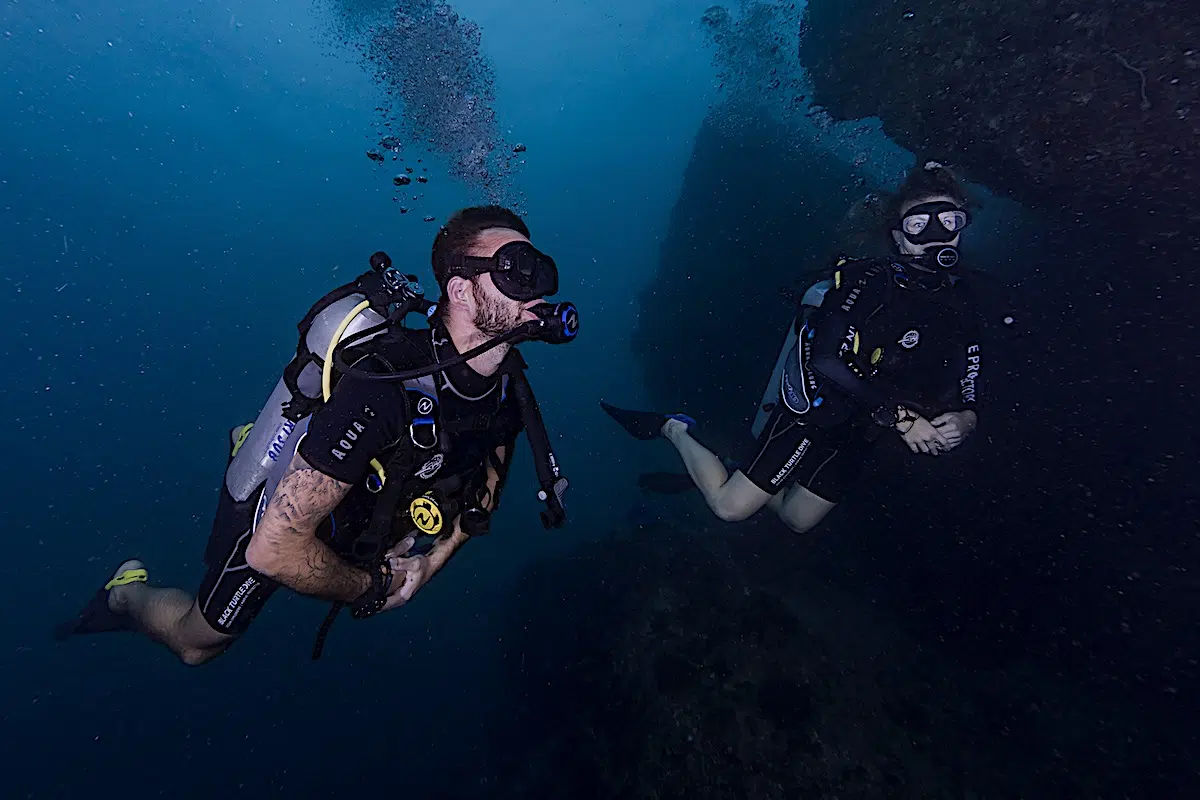 Explore Koh Tao Dive Sites at Night
Our Night diver specialty course is an excellent way for enthusiastic scuba divers to experience the marine environment after dark.
Open Water or Advanced Open Water divers are able to improve their diver skills and become much more confident underwater.
Night diving with us at IDC Koh Tao, is very popular and our experienced PADI dive instructors will ensure you learn at your own pace, whilst demonstrating mastery of all the required skills.
Frequently Asked Questions
Can you scuba dive at Night?
Yes. Night diving is an incredibly popular and exciting experience that gives divers the opportunity to see nocturnal marine animals that you will not see during the day.
If you have not night dived before, it is important you seek a dive instructor who has experience conducting night dives with inexperienced divers.
Either enrol in a 1 dive PADI Adventure Night dive or if you are really enthusiastic why not embrace night diving and enrol on the 3 dive PADI Night Diver Specialty course.
Is night diving good in Koh Tao?
The diving conditions in and around Koh Tao are good for night diving for the majority of the year.
Several dive sites such as White Rock, Twins, Junkyard Reef & Japanese Gardens all offer excellent night dives, with lots of nocturnal marine life to observe. These are the most popular dive sites night dived in Koh Tao.
Is it safe to night dive on Koh Tao?
Night diving is extremely safe as long as the diver is correctly trained in night diving techniques and procedures. It is highly recommended to complete your first night dive under direct dive instructor supervision. If you are considering becoming an Advanced Diver, one of the Advanced training dives in Koh Tao is the Night dive.
The dive sites around Koh Tao also offer some of the best diving conditions for night dives for the majority of the year.