Marine Conservation Internships in Thailand
Join our Marine Conservation Internships on Koh Tao
Scientific Marine Conservation Internship
Marine Conservation and the preservation of our Marine Ecosystems is an important element of our diver training programs.
Located at Black Turtle Dive dive centre, IDC Koh Tao offers its own Marine Conservation curriculum, which includes individual courses and Marine Conservation Internships.
All of our beginner and pro level diver training courses provide a foundational awareness and basic education to our students as part of their diver training.
Our in-house marine conservation team is a leading provider of marine conservation education on Koh Tao and throughout the South East Asia region.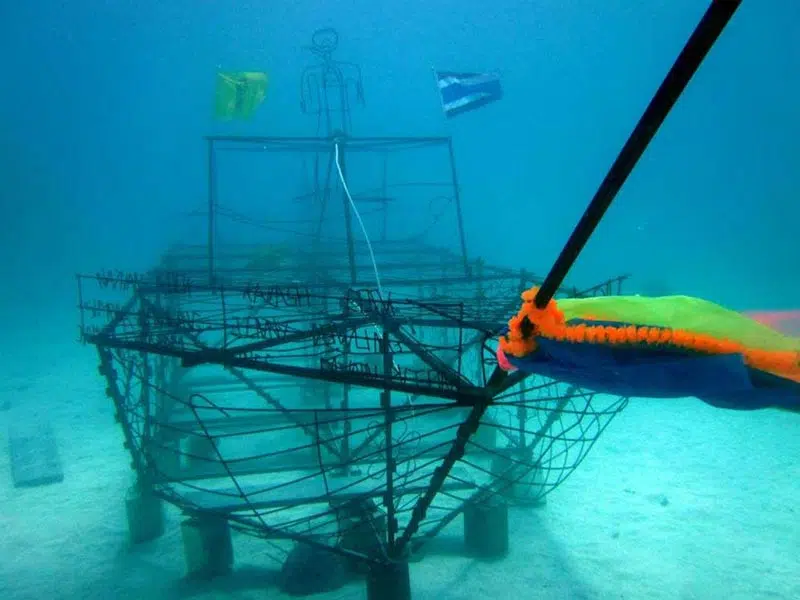 We are actively working on a number of environmental projects and are one of the most active environmental organisations on Koh Tao.
Tropical Koh Tao is an idyllic island paradise both above and below the water with stunning natural beauty and a delicately balanced marine ecosystem.
Training and preparing dive professionals with an emphasis on all aspects of marine conservation is critical to the sustainability, preservation and protection of coral reefs for generations to come.
Our pro level and entry level diver courses and scuba diving internships are designed with a strong emphasis on marine conservation and we provide a range of 'bolt-on' Eco modules. Those with adequate training can participate and contribute to a range of conservation projects:
Bio-Rock dive site – coral transplantation and growth rate data collection
Buoyancy Word – artificial dive site
Coral nurseries – construction of coral nurseries around the island
Reef check surveys / EMP (Ecological Monitoring Program)
Junkyard House Reef – our own artificial dive site (a popular dive site)
Beach and dive site clean ups around Koh Tao
Giant Clam Nurseries
Mooring Buoys & line maintenance and management.
Adopt a coral transplant
Marine resource management
CoralWatch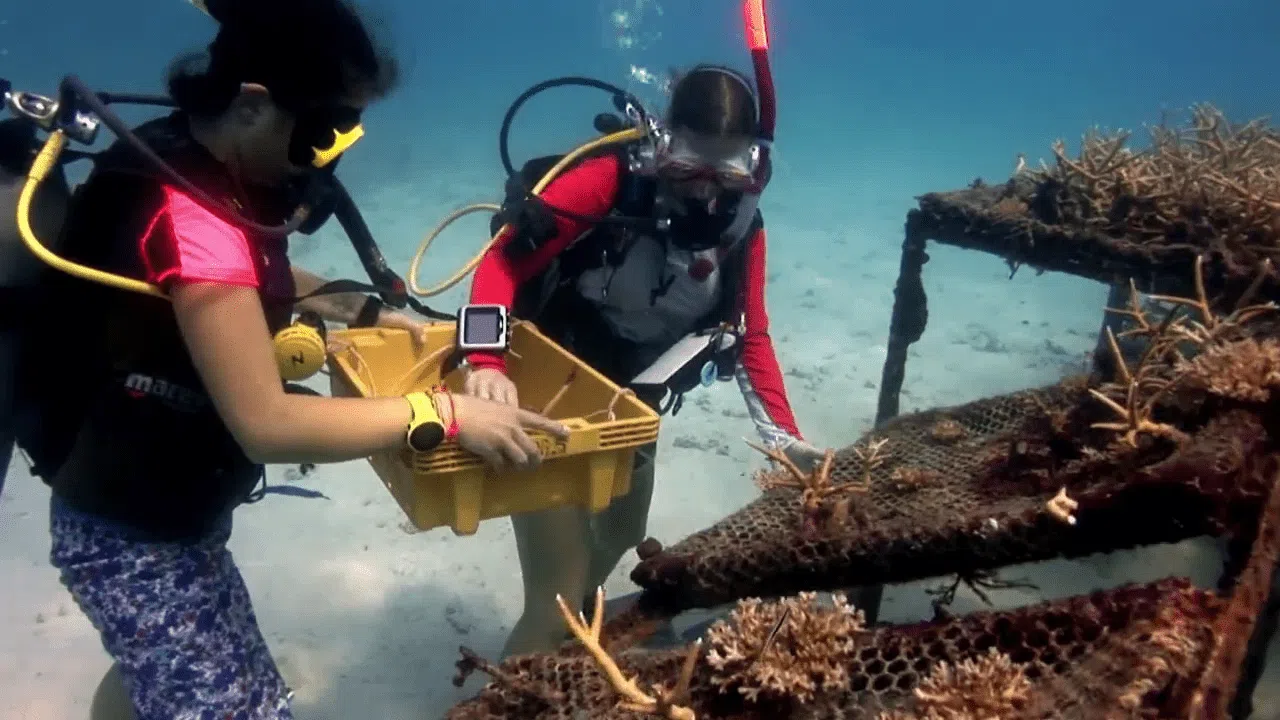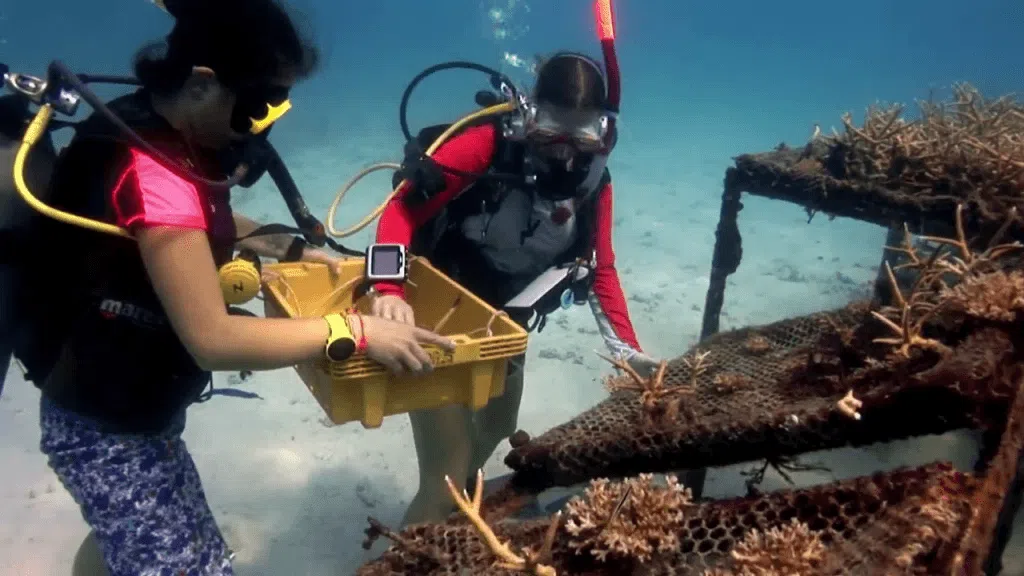 Marine Conservation Internship Koh Tao
On Koh Tao, several alternative dive sites have been constructed over the last decade with the goal of increasing the local reef area and removing increasing numbers of divers from natural areas.
Junkyard Reef is one of those artificial dive sites located approximately 500metres from the shoreline of Mae Haad. The founding partners of the Eco Koh Tao charitable conservation project, Matt Bolton and Nathan Cook MSc, commenced the extensive restoration work that is now a flourishing artificial dive site, visited daily by divers and the current restoration team.
Whilst Nathan continues his coral reef restoration work with Reef Ecologic in Australia's Great Barrier Reef, Matt continues to facilitate the current work, working alongside the DMCR to ensure best coral restoration practices are applied and maintained.
IDC Koh Tao alongside Black Turtle Dive are at the forefront of marine conservation locally with involvement in multiple projects through international partners Project Aware, Coralwatch and Reef Check.
Our Divemasters and Instructors undertake Reef Check Training to ensure they are expertly informed about the marine environment. Our reef surveys help to keep an accurate database on the condition of the local coral reefs.
In addition to incorporating marine conservation into our lifestyle and scuba diving internship packages, we offer specialty eco courses for those who want to learn more about the local environment whilst making a valuable contribution to scientific research.
Frequently Asked Questions
What is a Marine Conservation course in Thailand?
A marine conservation course is any one of a number of specialty courses that offers students the opportunity to learn more about a specific area of marine conservation.
A course can focus on marine life, the marine environment, ecology and marine ecosystems or a combination of these topics.
Marine conservation students can expect to significantly benefit through an increased awareness, practical and educational workshops on Koh Tao.
What is a Marine Conservation Internship in Thailand?
Our marine conservation internship provides candidates with foundational knowledge and awareness through a combination of land and marine based workshops and educational presentations.
Delivered over a minimum of 14 days, our marine conservation internship is an intensive program designed to educate our students about the fragility of our marine ecosystems.
Our candidates must be certified Open Water divers with a minimum of 10 logged dives or Advanced Open Water divers with recent diving experience.
What is the cost of a Marine Conservation Internship in Thailand?
Our Marine Conservation Internship on Koh Tao costs 25,000 baht for a 14 day flexible program, which includes a minimum of 12 scuba dives.
Internship candidates must be at least Open Water certified with a minimum of a 10 logged dives or Advanced Open Water certified divers.
For people with a passion for scuba diving and marine conservation who want to 'make a difference', we will provide you with a one-on-one scuba review with a Diving Instructor for an additional cost of 1,800 baht.
The Marine Conservation Internship is an intensive program and requires students to be attentive and to participate fully throughout the duration of the program.
How long does a Marine Conservation Internship take in Thailand?
The Marine Conservation Internship program is scheduled over 14 days and we provide some flexibility to candidates if they need to re-schedule modules due to unexpected circumstances.
Candidates can expect a series of classroom presentations, interactive discussions, reviews and both land and marine based practical workshops, which include scuba diving and snorkeling sessions in-water.
Our Internship is a foundational program and provides real value to candidates who want to learn more about the marine environment and it is ideal for those who are considering a future in marine science.
Can you get certificates for Marine Conservation Internship in Thailand?
Our Marine Conservation Internship gives you the opportunity to earn at least two recognised certificates for that particular component of the program.
As a foundational program designed in a modular format, each educational presentation is followed by practical sessions, which can be marine or land based.
For our Internship you will receive a certificate for the Dive Against Debris module and the CoralWatch module after successfully completing these components.
There are many other practical sessions, either scuba diving or land based and requirements for the submission of data for marine science and conservation purposes.
Will I see a Sea Turtle on a Marine Conservation course on Koh Tao?
Our Sea Turtle Awareness specialty course is to help increase awareness of the plight of Sea Turtle's in our Oceans.
We offer a 1 day 'distinctive specialty course' that includes presentations followed by two Open Water scuba dives or two snorkeling sessions.
Students must be at least Open Water diver certified with recent diving experience and we offer a scuba review for individuals who need it with one of our Diving Instructors.
The Sea Turtle Awareness in-water practical sessions can be Open Water diving or snorkeling sessions and we will visit the Koh Tao bays that are most popular to see a Sea Turtle in the Ocean.
Will I see a Whaleshark on a Marine Conservation course on Koh Tao?
Whilst we cannot guarantee that students will see a Whaleshark on our 1 day Whaleshark Awareness specialty course, we give ourselves the best opportunity to do so with 2 Open Water dives.
Our Whaleshark Awareness 1 day 'distinctive specialty course' is designed for students who want to increase their awareness about the plight of these harmless and majestic fish.
Our 1 day course will increase your awareness of this wonderful species and teach you how to identify characteristics, interact with them and help you understand their importance.
Sightings of Whalesharks in the sea around Koh Tao are frequent and they are commonly seen in various locations around the island.
What is the Dive Against Debris Conservation course on Koh Tao?
Our Dive Against Debris conservation course is a 1 day specialty course and is made up of a combination of knowledge development, presentation and practical sessions while scuba diving.
Dive Against Debris students must be at least Open Water diver certified with recent diving experience or be able to refresh their skills with a scuba review.
Marine trash is ugly and dangerous to human health and marine animals and our course is designed to educate you on becoming a marine protector to help save our Oceans.
What is a Microplastics Survey on the Koh Tao Marine Conservation program?
The Big Microplastic survey is a citizen science project conceived by Just One Ocean in collaboration with The University of Portsmouth.
Microplastics are one of the biggest issues we face in the fight against plastic polluting our oceans.
We will show you how to plan and conduct the Big Microplastic survey, analyze your samples and upload the data to the Big Microplastic survey App.
Scientists and academic institutions can use the data to better understand the problem and advise stakeholders and governments.
How do you identify Corals on the Marine Conservation course in Koh Tao?
We conduct two Coral identification dives during the Marine Conservation program on Koh Tao, where you will learn how to approach species identification using photography.
The dives involve photographing hard and soft corals from several angles and distances and techniques for measuring Corallites that help with the identification process.
During the post dive debriefing session, we will review the photographs and use a Coral searchable smart guide to correctly identify the Corals found.