Home
Emergency First Response
Emergency First Response course Koh Tao
Complete an EFR First Aid & CPR Course on Koh Tao
Whether at your workplace and home or even when socializing you never know when someone may be in need of your assistance. However, if you are needed will you be ready?
Sign up to complete an EFR First Aid & CPR course and be prepared to help others in a time of medical emergency.
The course will create the confidence and skills you will need to make a difference in a time of need.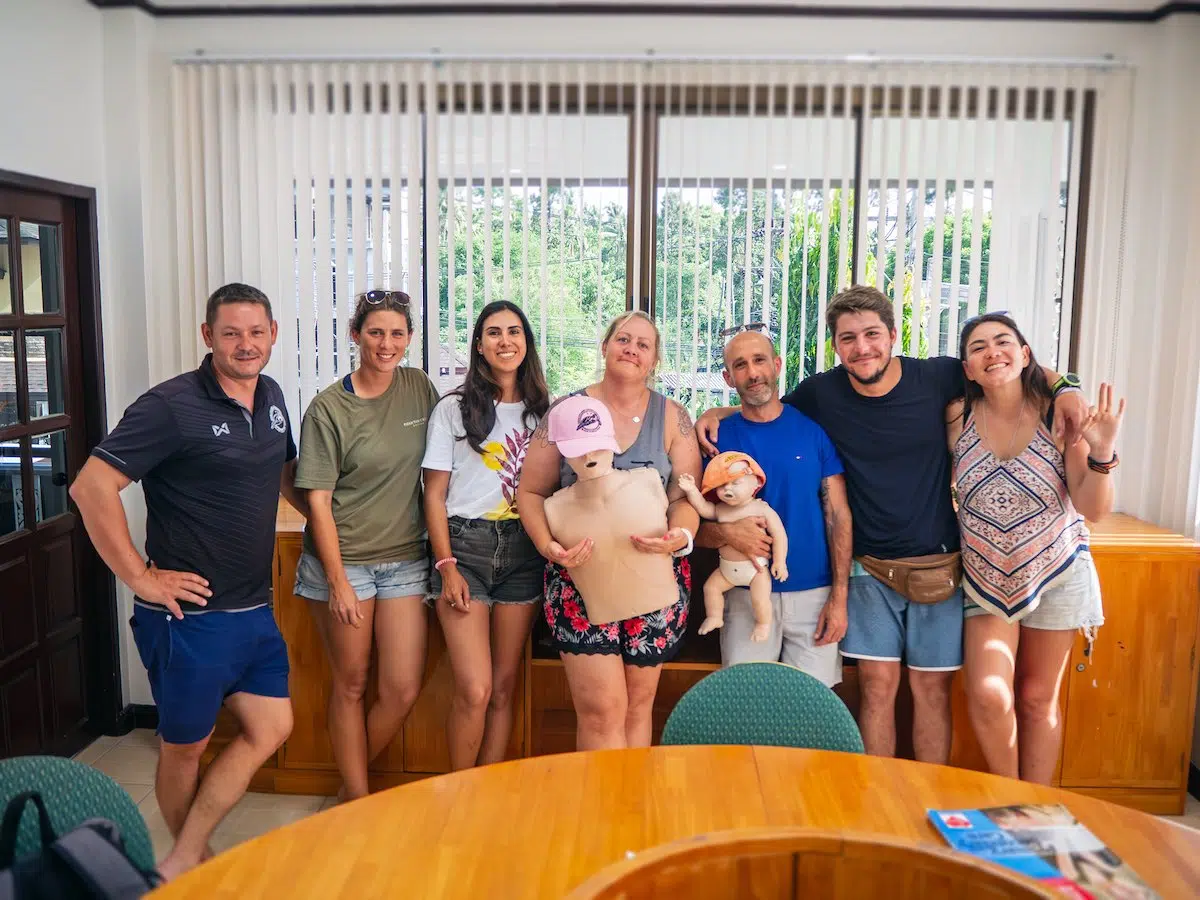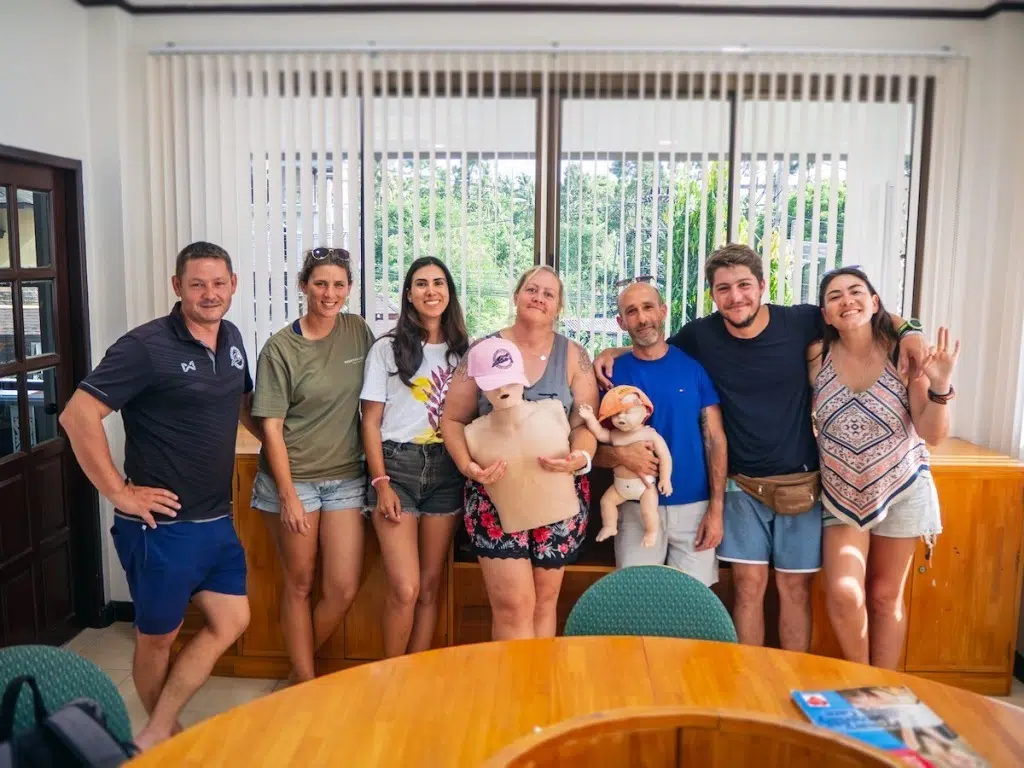 What you can expect on the EFR First Aid & CPR Course?
Learn how to identify a medical emergency and activate EMS
Recognize the signs and symptoms of a stroke, heart attack and cardiac arrest
Understand how to conduct a primary assessment on a patient using the AB-CABS system
Learn the correct techniques and have the opportunity to practice adult CPR as well as how to treat and manage serious bleeding, shock, choking and manage a spinal injury
Learn and conduct injury and illness assessments, bandaging, splinting injuries and immobilization techniques.
The EFR CPR / First Aid course follows internationally approved ILCOR considerations, guidelines and protocols and is open to scuba divers and non-Divers.
EFR First Aid & CPR Knowledge Development
You will watch a video and work through the EFR participant manual that includes an Independent study section and a skills Workbook.
At the very end of the course you will be required to complete and pass a final exam.
The EFR First Aid & CPR course will teach you the correct techniques for managing life threatening emergencies as well as how to prioritise emergency procedures and monitor a patients cycle of care.
EFR First Aid & CPR Skill Development
The EFR course consists of 9 Primary Care Skills and 4 Secondary Care or First Aid Skills. The course also includes Oxygen Administration and AED use.
After watching the skills on the video, your EFR instructor will demonstrate each of the skills before asking you to practice.
The skills are introduced in simple steps, meaning you will find each skill easy to remember and use in the event you are faced with someone in need.
The Primary and Secondary skills you will learn include:
Primary care scene assessment and hazardous situations
Barrier Use and communicable disease protection (bloodborne pathogens)
Primary assessment, recovery position and airway management
Adult CPR – Chest compressions only
Adult CPR – Chest compressions with rescue breaths
Serious bleeding management
Shock management
Spinal Injury management
Conscious and unconscious adult choking techniques
Secondary care Illness and Injury assessment
Bandaging & splinting, dislocations & fractures
Optional skills we will show you include Oxygen Administration and AED use.
Upon successful completion of all performance requirements and the final exam you will be certified in First Aid & CPR for 24 months.
The Emergency First Response Course includes:
EFR participant manual & EFR certification
EFR Instructor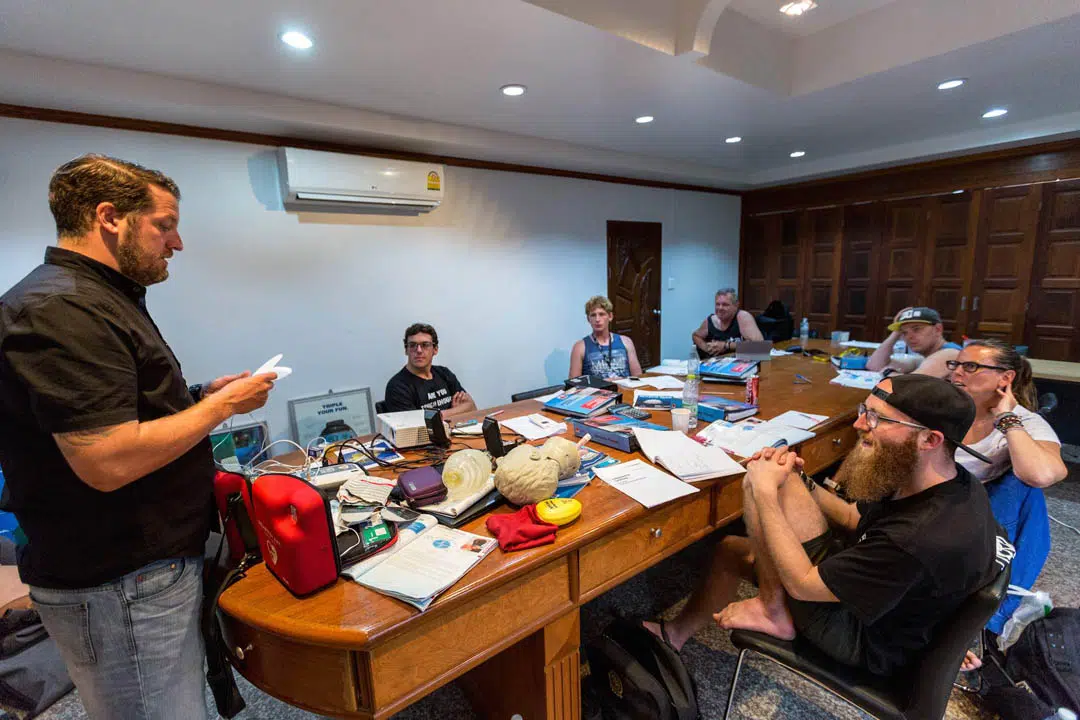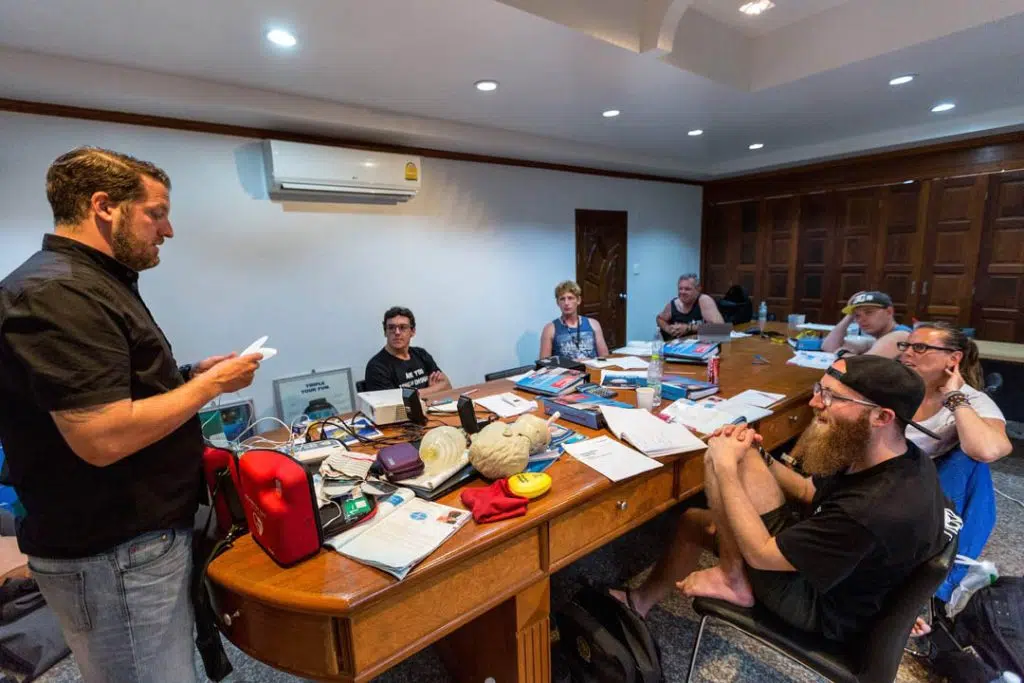 Frequently Asked Questions
What is the EFR Course on Koh Tao?
The Emergency First Response (EFR) course teaches you both primary and secondary care.
During the course you will learn how to properly respond to both life-threatening emergencies and injuries and illnesses that are not immediately life threatening.
What if I already have a First Aid certificate?
If you have completed a First Aid Course in the past we recommend to check if it is still valid and then to get in contact with us regarding the agency it was completed with to see if it is recognised.
How long is the EFR Course on Koh Tao?
The EFR course can be completed over one morning or afternoon session. If you are enrolled in the EFR course alongside your Rescue Diver Course then you can complete an afternoon session giving you time to learn everything needed for the combination of the two.
Does the EFR Certificate expire?
Upon successful completion the EFR Certificate is valid for 24 months, however, in this time we recommend keeping up to date with your skills and checking for any changes to practises or changes in local laws if you change location.
How much is the EFR Course on Koh Tao?
The EFR course is 4,000 baht. If you wish to combine it with a rescue course please contact us for more details.
Are there any extra costs with the Koh Tao EFR Course?
There are no hidden fees in the EFR course. The price covers all extra training equipment and certification fees.
When should I take the EFR Course?
The EFR course can be taken at any point during your progression as a Scuba Diver. For anyone wanting to enrol in the PADI Rescue Diver Course or PADI Divemaster Course the EFR course is a performance requirement.
Is the Koh Tao EFR Course PADI?
No. Emergency First Response are one of the fastest growing CPR, AED and first aid training organisations worldwide.
For this reason, PADI offer first aid courses adhering to the EFR guidelines for the best level of First Aid training.
How old do I need to be to take the EFR Course on Koh Tao?
There is no minimum age required to complete the EFR course. You just need to be able to successfully complete the performance requirements to be successful.
Do I need any additional equipment for EFR course on Koh Tao?
No. All extra equipment that shall be required for all sections of the EFR course is included in the course fees.