Meet Our Platinum Course Director Andrea Warren
My name is Andrea. I am a PADI Course Director on a small tropical island called Koh Tao in the Gulf of Thailand.
For those of you who do not know what that is, one of my main roles is to teach PADI Divemasters how to become Open Water Scuba Instructors.
Every month I conduct what is called an Instructor Development Course, otherwise referred to as an IDC. The reason I chose this career path was to have the opportunity to spend more time with my students and to be a part of their professional development.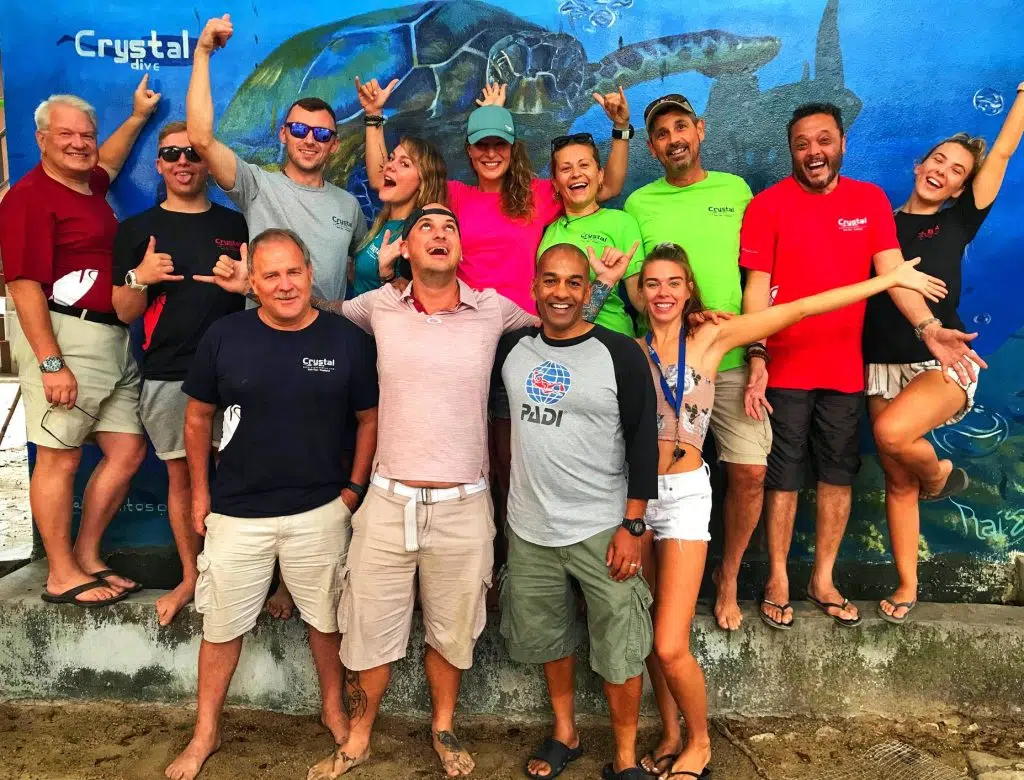 What I did before I trained to become a PADI Course Director
Before I was a Course Director, I used to teach dance. I spent many years with the same students. This allowed me to watch them grow and fine tune their skills over time. I enjoy watching my candidates evolve into instructors and seeing how they do once they are immersed in the industry.
I know what it is like when you are first starting out. It is important to have a mentor that can help guide you through each transition and new experiences.
When I was first introduced to the underwater world, I was immediately intrigued. Having grown up in Canada, I had not yet been exposed to the diving industry or the idea that you could work as a Scuba Diver.
I immediately became very curious about how other divers got involved with scuba diving and how they became professionals.
How did they discover diving?
When did they decide to become a professional?
How did they come to live on a tropical island in paradise?
I was very fortunate to meet other women who had had taken on important roles within diving and this instantly inspired me. Working with them motivated me to continue my training and pursue my goal of eventually becoming a PADI Course Director.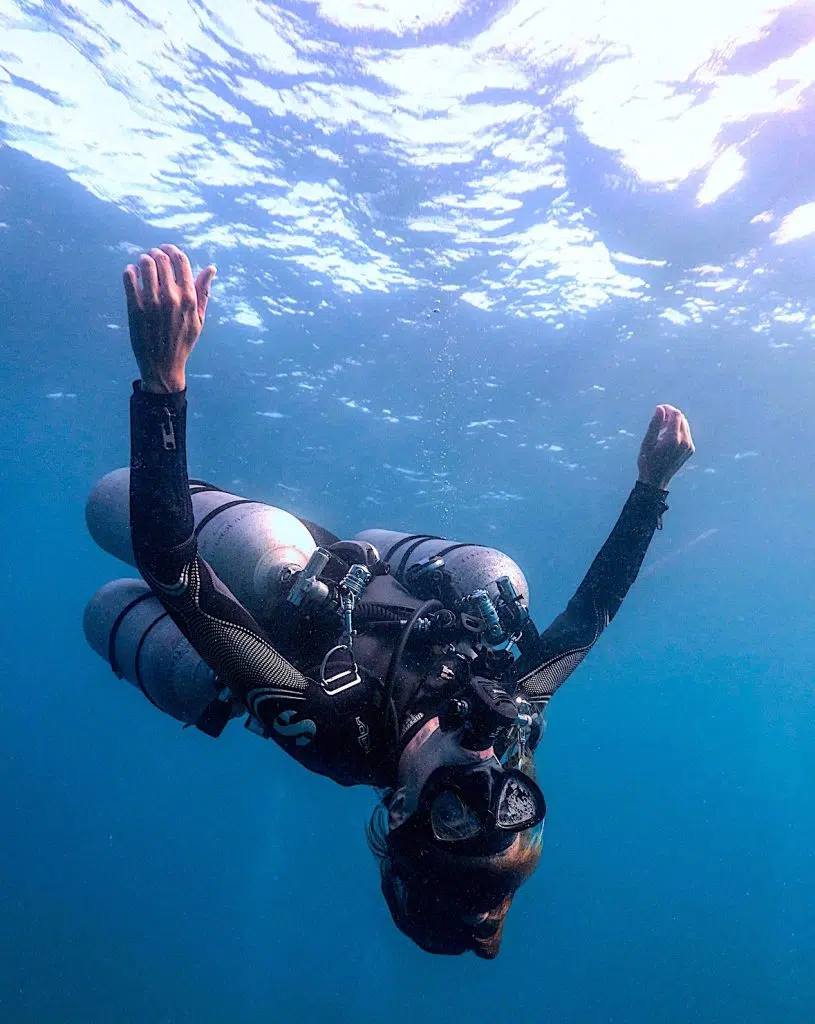 Women in scuba diving and professional development
I enjoyed having female mentors that I could work with and learn from. I knew I could go to them for advice and felt comfortable discussing any fears or issues that I had along the way.
No matter what industry you work in, there will always be ups and down. There will be good days and bad days. I'm sure we can all relate to this and know what it is like to become discouraged. Remember, it is ok to have these moments.
However, it is extremely helpful to have someone to get you back on your feet and tell you to keep pushing forward. I had women do this for me and I know that I have done it for others.
When I initially became a PADI Course Director, I joined the team at Crystal Dive. I was very excited to see that there were quite a few senior positions held by other Women.
It is always a challenge starting a new job. I was very thankful to have a fantastic female support team. At Crystal we have multiple females involved in Professional Development, Marine Conservation, Equipment Sales, Photography, Sidemount diving and Student Diver Training.
This allows female divers to constantly be exposed to other women. It also showcases the variety of avenues they can explore. Whatever they choose, there will always be someone to help them achieve their goals. I believe that having a role model is essential for growth and development.  I would like to be a role model for female divers. I want to be that person that other girls can look at and say, "I can do that to!" "If Andrea can do it, so can I."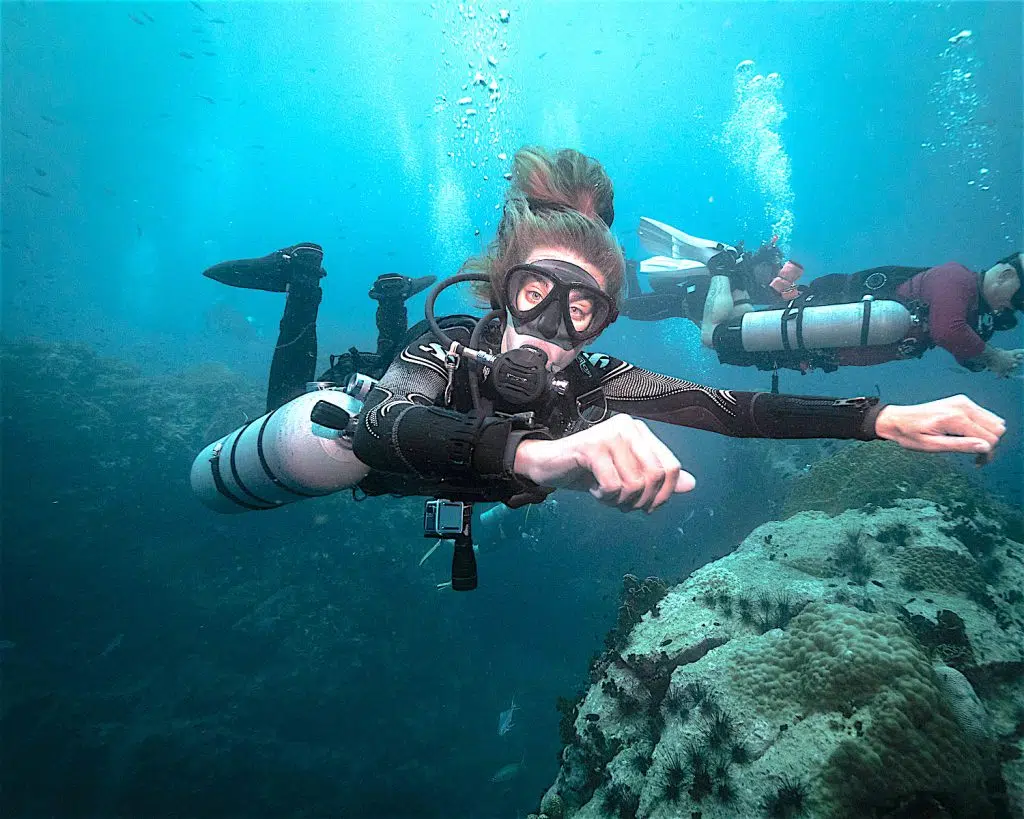 I want my candidates to be ambitious and continue to aim high and let nothing get in their way. I've have had a large amount of my female instructor candidates express their gratitude for having female mentors involved in their training. I myself felt the same way.
Technical Diving Courses and Sidemount Diving
When I was first introduced to Technical Diving, I have to admit, I was a little wary. I didn't know if I personally belonged in that world. It seemed as though it was a niche market predominantly for men.  I'm not going to lie, I was intimidated.
That being said, It didn't take long for me to become instantly addicted. I was also excited to see so many other girls take part in both Sidemount and Technical courses.
Once I completed My Tec40, Tec45 & Tec50 courses, I started assisting courses.  At times some of the courses were completely made up of female divers, aside from the instructor. I believe that this helped to showcase to other Women that Technical diving was well within their reach.
Technical diving is not necessarily for everyone; however, it is a great step for divers who are looking for an additional challenge.
I myself enjoyed being challenged and I think a lot of other female divers will feel the same. I want them to know that if it is something they are interested in, there is a place for them in the Technical world. I hope that they will not be as hesitant as I was simply because of their gender.
Scuba Diving & Social Media
Now thanks to social media, there are some fantastic female technical divers being showcased on multiple platforms. This helps to inspire me to continue and to grow within the technical realm. I want to share this attitude with my female students and help get them started.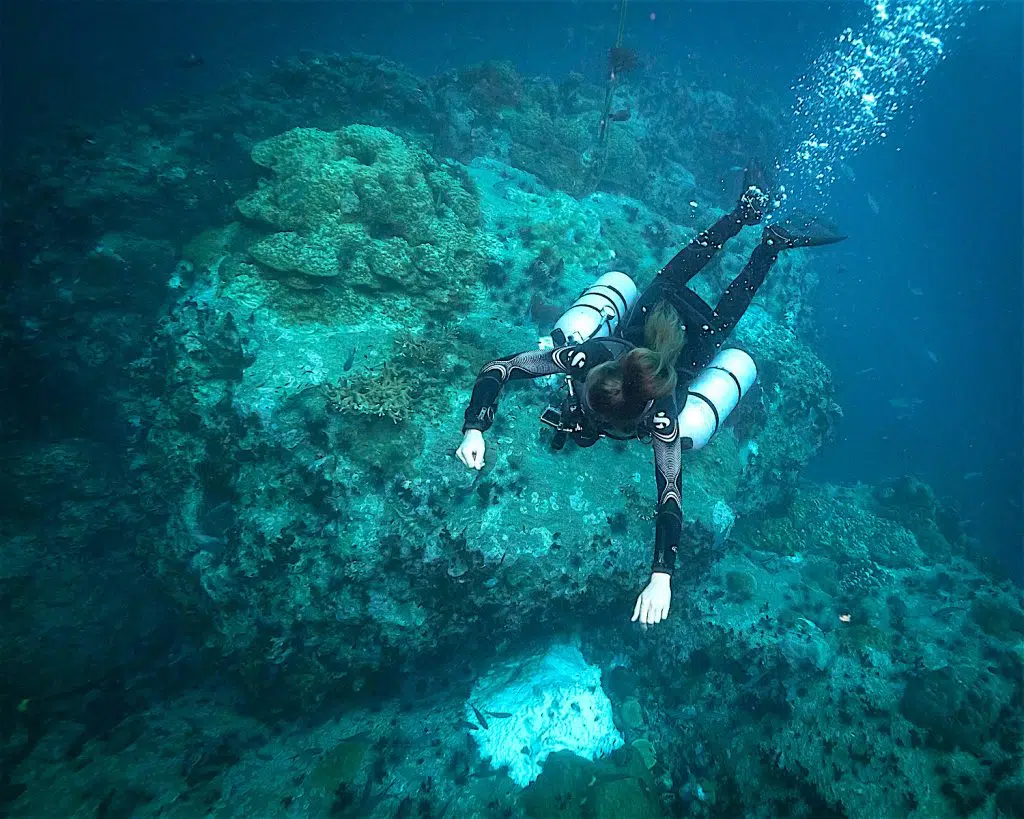 Recently I held a Sidemount Trial. I noticed that I had many female divers join in and enjoy the challenges of a new configuration and multiple tanks. Seeing this gave me the idea to do a "Girls Only," Sidemount Trial for PADI Women's Dive Day.
Sidemount can be done completely recreational, or as an introduction to Tec. I hope to get more females involved and excited about this type of diving.
In the end, the most important part of my job is providing support for my candidates. Whether they are taking on the challenge of multiple tanks or becoming a PADI Open Water Scuba Instructor, the journey is the same.
There will be challenges along the way, and there will be successes. I have experienced both and I know how important it is to have the support of your peers and educators, especially as a professional level diving educator.
Andrea Warren – Platinum PADI Course Director