PADI Master Instructor and Divemaster Co-ordinator at Crystal Dive
Tina Major is a PADI Master Instructor and one of the Divemaster Program Co-ordinators at Crystal Dive. Tina has contributed many years of dedication to the scuba diving industry and to the development of both recreational and pro level scuba divers.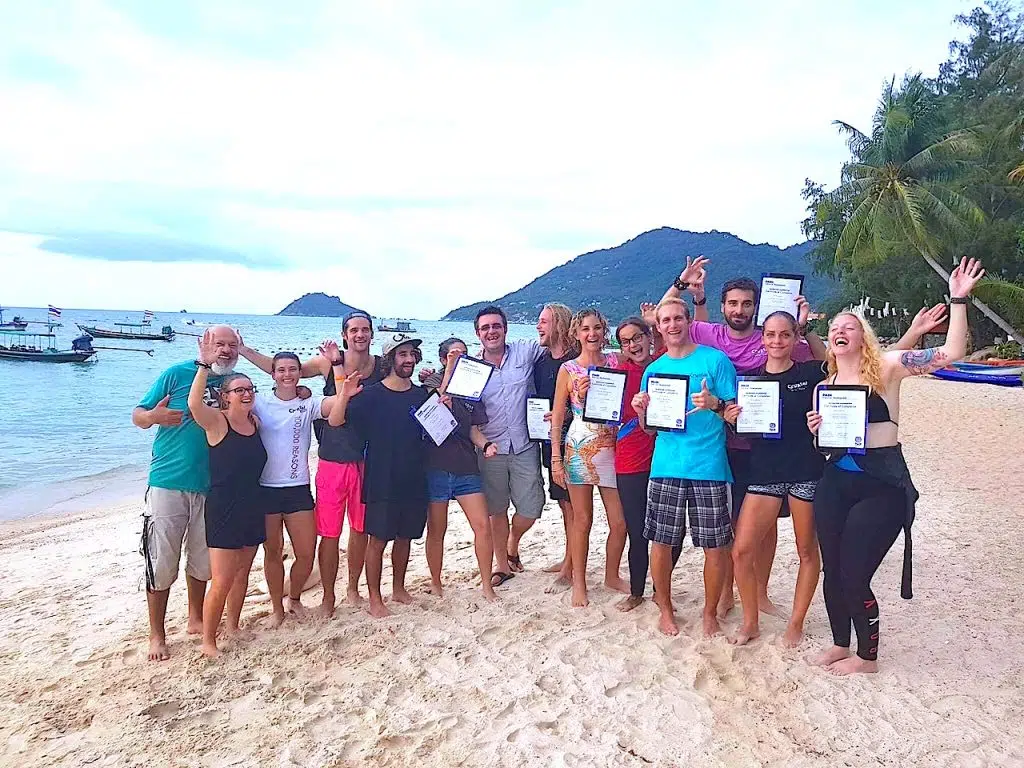 How and when did you arrive on Koh Tao?
I first arrived at Koh Tao when I was traveling across Asia after traveling in Australia. I came here to do the PADI Advanced Open Water course when I was 21 and I actually spent my 21st birthday in Thailand.
I had done one year of university back in Canada, anthropology and religious studies. I loved it but didn't want to be an academic. Then a friend asked if I wanted to travel Australia. I did!
As soon as I got to Thailand I fell in love with it, the diving mainly but also Koh Tao and the lifestyle on this small tropical island. I'd already taken the PADI Open Water course in Australia and as soon as I was done with my Advanced course at Crystal Dive I called my mom and said I wasn't coming home I was going to become a diving instructor.
She reminded me that I had $3000 debt! So I came home and worked in telecommunications, a boring desk job, just for the money and also did my rescue in Canada and came back two years later. So it was very clear right from the start, 100% that I wanted to be a dive instructor. It felt amazing!
Everyone always said you'll find yourself when you travel, I never believed it but it 100% happened. I was bouncing around, 6 months in a job, went to University because I was interested in the classes, not to get a job.
I then realised I didn't HAVE to go to school, I liked studying but it wasn't right for me – funny because I now teach teachers! But yes, when I found diving I absolutely realised this was the right life for me.
It's funny because I quit studying Anthropology because I was told the only career I could have was to become a teacher! Now I'm here! I also hated public speaking, took a course in high school because it freaked me out, but now I daily lecture to 20 odd people… Life is funny. And it's still like that. Still 100%, no doubt, I know this is the right life for me.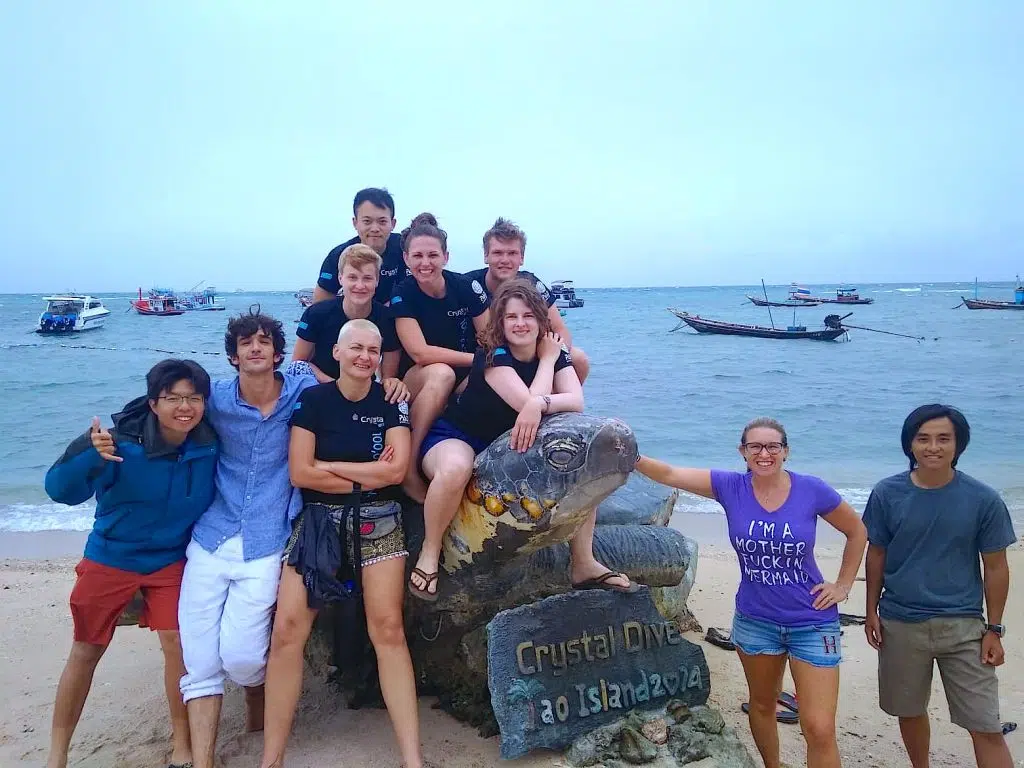 What aspects of your job help you stay positive?
Relentlessly positive! What can I say, I love what I do, my job is the ocean, all my colleagues are my friends, I hang out with my friends and teach people the stuff I love, I wouldn't really call it a job!
Of course, everyone has bad days, but back home right now everyone's stuck in snow! Can I really complain? I love it.
To be a woman in a senior teaching role at one of the biggest PADI dive schools in the world is something that makes me feel really proud.
When Matt first gave me the opportunity to be a co-ordinator on the Divemaster program, I joined Samantha Mack-Johnson in the role. That was back in 2013, and was the first time two women had held this role at Crystal. It was a big deal at the time, especially when you add in the fact Suki held the same position within the Chinese language program.
There does seem to be a somewhat male dominance at most dive schools I'm familiar with. Most senior roles whether IDC staff, or management roles seem to be occupied by men. I don't know how true this is outside of Koh Tao, because I've only really worked on Koh Tao.
But here at Crystal Matt's attitude is much more progressive and we have lots of female Instructors and DM's on staff than seems to be the case elsewhere not to mention lots of female divers in general. This feels really good, especially those who have gone through my Divemaster training program, I think almost every member of staff at Crystal has been taught by me at some stage within their training. I'm very proud of everybody!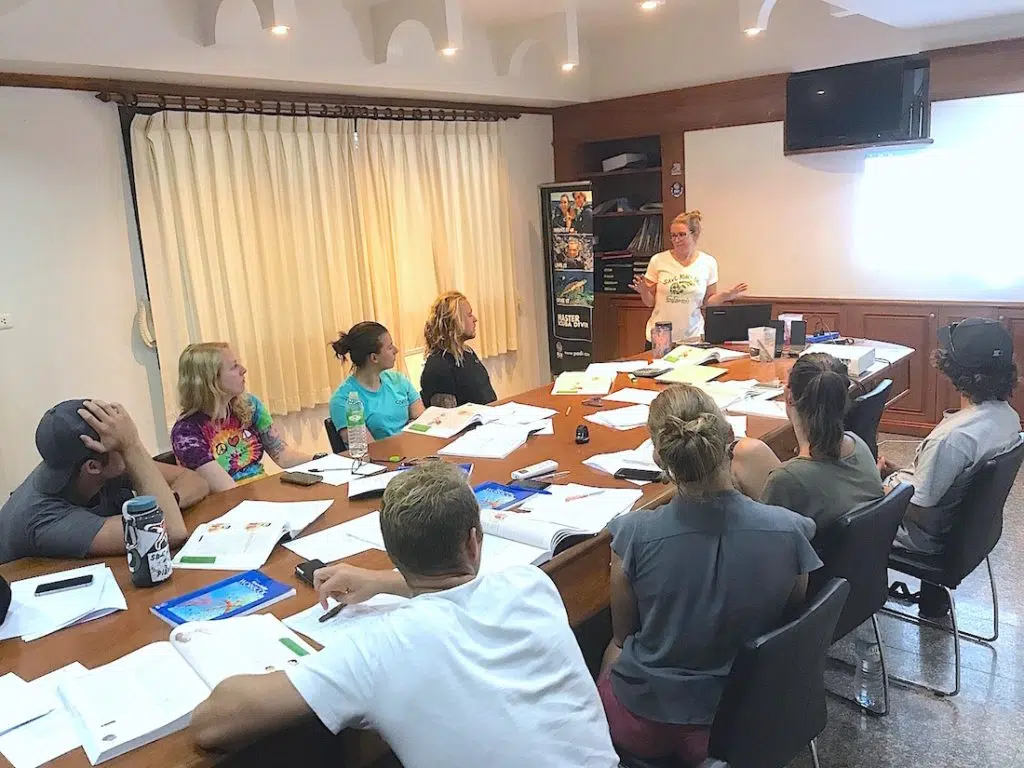 Is there a motherly element to your teaching style?
Most definitely! Like any mother you are always there to listen, guide, give advice and occasionally you do have to give people a swift kick in the butt too.
There definitely is a transformative element to diving; Lots of people completing their Divemaster course are looking to change their life. People get bored or frustrated with their day-to-day life, sitting at a computer, doing a job that is just a job, something they don't enjoy.
I do enjoy guiding people through this transformation. Even if they don't necessarily go on to become a working professional they get to find something in themselves that they didn't know they had. A passion. An aspect of their personality they didn't know they possessed. A person who can take responsibility.
I was an outgoing person growing up back home in Canada, but it was on Koh Tao, and through scuba diving that I found myself and my voice. Helping others to do the same is very rewarding. This is especially noticeable after the snorkel test!  I get so many drunken appreciations "thank you so much." It's wonderful & incredibly gratifying personally to contribute to people finding themselves in their passion.
What motivates you to continue doing what you do?
For me, I'm always learning, every day presents a different challenge, new people from new places, each providing a challenge for me to overcome or for them to overcome with my support. We recently had a Divemaster candidate who only had one arm, and that presented a unique challenge, with a different set of problems we needed to work with, and the need to think out of the box and apply adaptive techniques in order that he met the performance requirements.
Plus I don't just meet people, and spend a few days with them. The Divemaster course is scheduled over weeks, sometimes months, so you become really good friends with the people you train. You really make a bond.
You become lifelong friends and even though it's sad when people leave you stay in touch. When I started here there were no smartphones on the island and you needed to make the effort to stay in touch, but you can. Also I have many close friends here on the island, which makes a huge difference.
For a woman, the ratio at Crystal Dive for female to male is close to 50/50 and there are a lot of women in senior positions, as this blog series shows.
It is obvious that's just how it should be! Crystal wouldn't be where it is today without some of these key female staff that have contributed so much to its success story.
It's clearly correct and proper to have this equality. It's just a shame that what we have achieved here at Crystal seems to be so unusual in the scuba diving industry.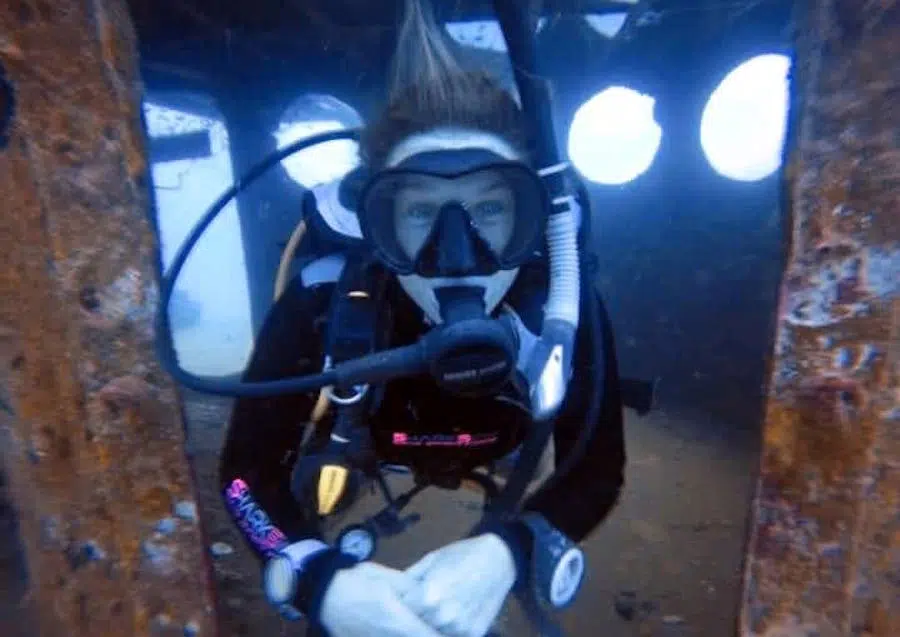 Do your achievements inspire others?
I tell my 'life story' to my students quite a lot, they always ask how I got here. I think it's because they see someone who is happy where they are. A lot of people don't see a dive instructor as a proper job, a real line of work in the real world, just a hobby.
But it is a career for me, and I love it. I've built myself up to a point where I'm in a position where I can teach all levels. I'm now a senior member of staff and I love that it gives me the variety and chance to teach at so many levels that make it so interesting for me.
I think a big part of getting to this point in my career is perseverance, I knew I wanted this life and I wasn't going to let anything stop me. I had a serious ear infection during my Divemaster and was out of the water for over a month. I felt the world was working against me and had to go to so many clinics, both here and on the mainland.
I called my mum, she said "give it three weeks, if you still feel the same give it another 3 weeks then come home." That worked. My mum loves that I'm here, she supports me every step of the way, comes to visit, made sure I did it on my own. She also made sure I got a house back home so I had a safety net.
She pushed me but also supported me. Told me if I really wanted it I had to do it on my own. That mixture of pushing and supporting made a big impression on me, I wanted to prove to everyone I could do it.
I use that myself now to help people realise their dreams but you have to do both, push and support them, it's what I learned from my mum but it's also what works. If people are a little too scared you have to push, but also support people when they fail.
Tricky things in diving like underwater navigation, leading recreational dives, you have to be really supportive and patient, I definitely learned that from my mum.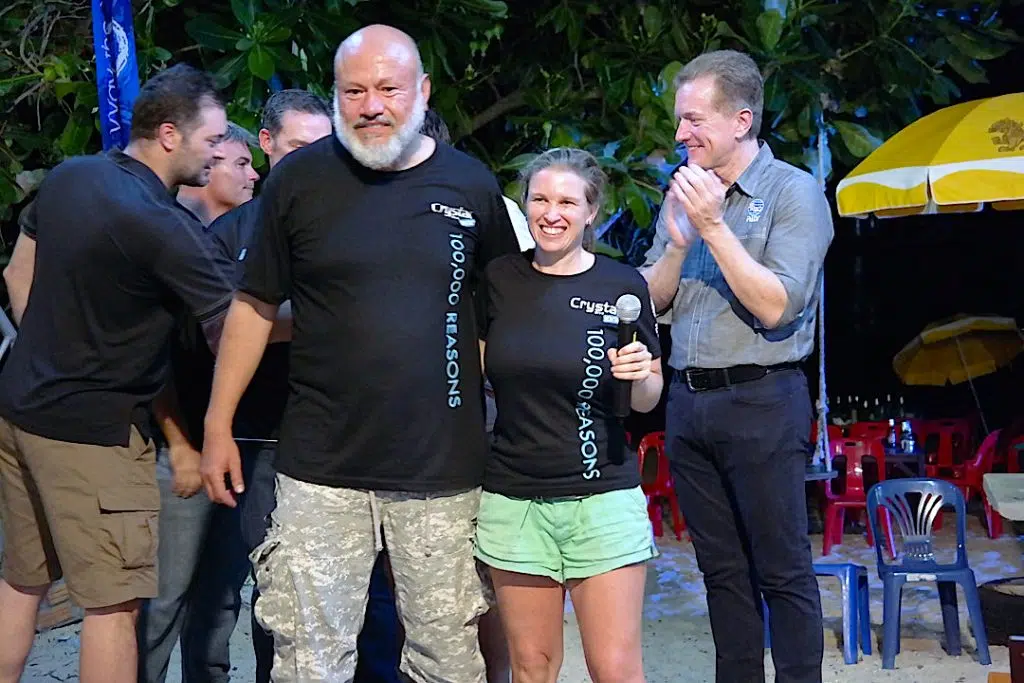 How did you get to your present role?
I was determined to work at Crystal Dive Koh Tao, I hung around like a bad smell. I didn't get a job straight away, I had to stick at it, do some freelance work and be determined.
I believe Crystal is special because of the support from all the staff that new members get. For female members of staff who are new to the industry, it gives a sense of security and you can speak to people who have been there before.
At Crystal Dive we've all done the same program so we have been there before and there is a family element here, we do support each other. Everyone has hard days but we all talk about it, we're family and we share the same passion which makes everything much easier!
I want to see that at other schools if I ever moved, I'd want to build that, similar to what it's like at Crystal. I think that's why we've done so well, we support each other and we have kick ass instructors!
Are women more suited to scuba diving?
It's just a fact that women are more suited to scuba, we're better at multitasking and we have smaller lungs. But also generally in teaching, females are a lot more emotionally minded, which is important and they have that ability to support people with a deeper emotional element, especially other women. I'm not going to go too far in generalising but I think it comes more naturally to females.
So it's great we have more female instructors, it's great for diving because that emotional support will become more common.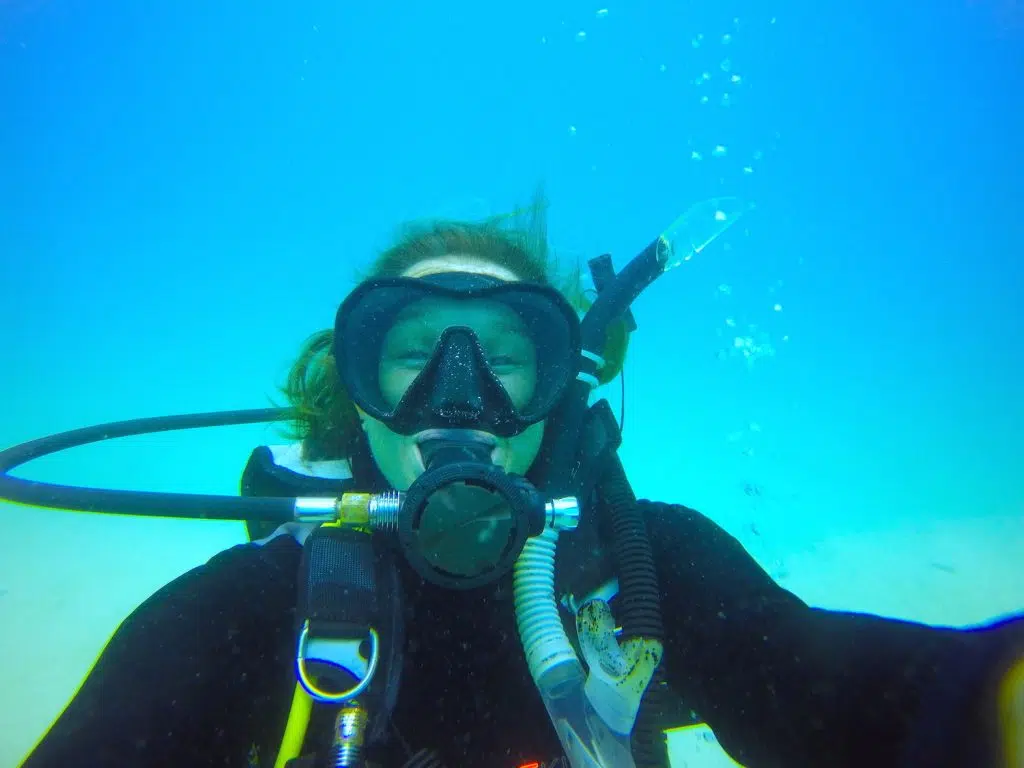 That is how it should be! After all, people trust you with their lives when they learn scuba, so it's important to have that emotional support. It's something we all learn, my male colleagues learn to be more patient almost fatherly, especially with female students and there may be tears and people should feel safe.
A lot of males have the mentality of 'just get over it' that's not always right for scuba diving you need the patience and understanding.
Has the Ocean always appealed to you?
What is it about diving? I've always been a water baby and my mum would run the tap to put me to sleep! I've always lived by the ocean and I started marine biology but it was too much science.
I wanted to be a dolphin trainer as a little girl, every little girls dream. I used to show my mum crabs and starfish on the beach every Sunday, My mum told me recently she hated those cold, wet ocean walks but she took me every Sunday because I loved it.
Any body of water fascinated me. Then I got to Australia and did my PADI Open Water course and that was the Eureka moment, I knew this was it.
I love being in the water it feels like home. I've dived Twins dive site so many times! But every time I go I love it. I can't get sick of the water. I have a home in the water, my colleagues are family, I'm in the right place and that is just the best feeling!
How does it feel to be a role model?
How does it feel to be a role model? I'm honoured to feel like that, I love and appreciate all the hard work that my students put into building a career like mine. It is a real compliment and it's just so great to see my students where they are now working in an industry they love.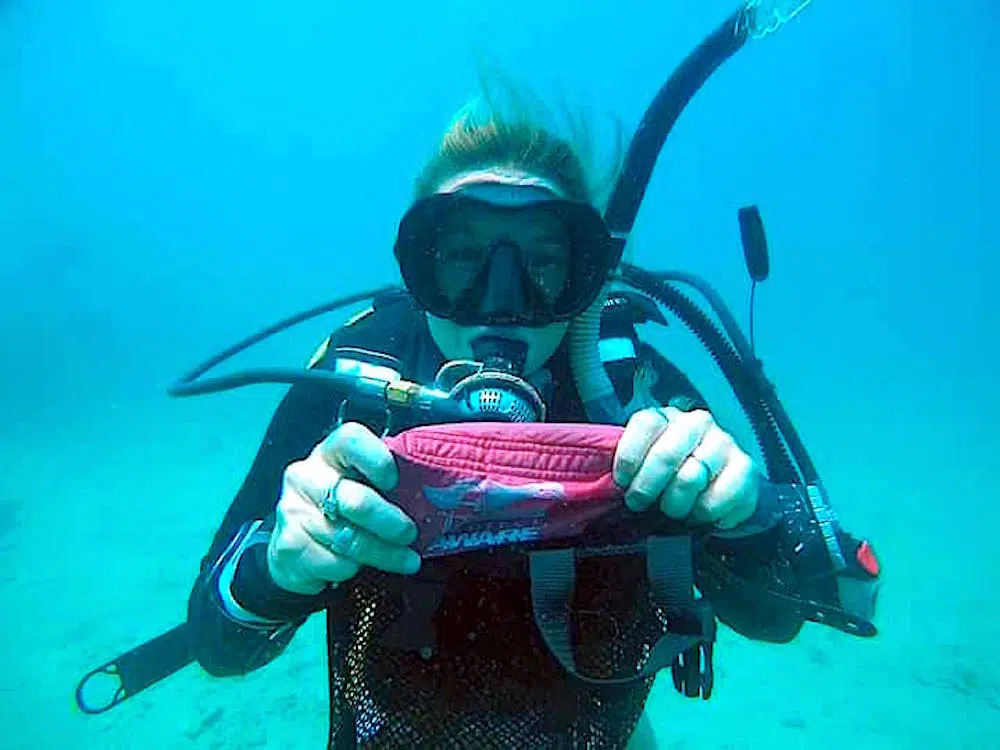 I love my life, that happiness, that joy and fulfilment in what I do, in the life I have. I'm honoured to be a role model for people who want to find it themselves, because that is a good life and I love it.
I wouldn't change it for the world. I couldn't imagine doing anything else, there is no plan B for me. This is my life and it makes me happy and I want to share that happiness with others. It's that simple.
What are your thoughts about Crystal Dive?
I've worked hard to reach my present senior role over many years and in hindsight have enjoyed every minute of it. My role as a Master Instructor and Divemaster co-ordinator is so diverse from day to day and gives me great satisfaction.
Over my years of training and teaching, Crystal Dive has helped me to focus on my ambitions and dreams. It has provided me with a platform to excel at what I am good at, in an environment I have a passion for, whilst educating others and helping them to achieve their dreams.
Matt Bolton has been instrumental in helping me achieve what I have today by facilitating my aspirations to become a senior member of the team and successful instructor. As the General Manager of Crystal Dive and a Multi Award Winning PADI Course Director, Matt has imbued all his staff with good values and the highest standards of training, which is evident in the way that I now teach others.